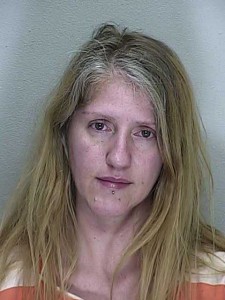 Ocala, Florida — On February 23, 2014, deputies responded to the 5600 block of NE 22nd Avenue in reference to a 911 call involving domestic violence.
Upon arrival, Deputy Daniel Jones, made contact with a gentleman whom told Deputy Jones that [his] ex-wife, Renee A. Phillips, 39, tried to slit his throat.
The man said he was sitting in the garage when his ex-wife came up behind him, grabbed him by the neck with one hand, and placed a knife to his throat with the other. The man said when he turned to look at his ex-wife she dropped the knife and ran into the kitchen.
A short time later, the man said he was standing in the kitchen when Phillips again came up behind him and placed a different knife to his throat, and said, "I'm going to kill you." At which point the man grabbed her wrist, forcing her to remove the knife from his throat.
Concerned for his own safety, he dialed 911.
The man told Deputy Jones that each time she put the knife to him, he could feel the steel blade pressing against his throat.
The man stated that his ex-wife had been accusing him all day of "drugging her."
While Deputy Jones was questioning Phillips, she said that she was not "feeling herself," and she believed her ex-husband had been "drugging her." She said, "I don't feel normal."
Phillips denied putting a knife to her ex-husband's throat. However, the man had injuries consistent with having a blade pressed to his throat and there was also fresh blood on the man's neck, along with finger nail marks, according to reports.
Phillips was arrested and transported to the Marion County Jail. She was charged with Aggravated Domestic Battery with a Deadly Weapon.
Deputy Jones later determined Phillips had been drinking throughout the day.