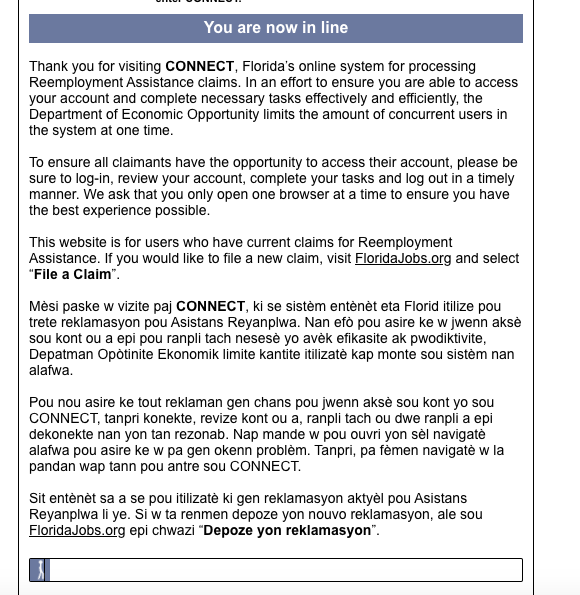 [Last updated on June 18, 2020. Approximately two weeks after this article was published, and after Ocala Post refused to take down the article, the Florida Department of Economic Opportunity has now blocked the use of the plugin mentioned below.]
Many who have applied for unemployment since the "outbreak" of COVID-19 still have not received any benefits.
The Florida Department of Economic Opportunity and the governor has promised a fix for the website but has struggled to deliver on that promise.
Due to traffic issues, you may have noticed that those who oversee the connect.myflorida.com website have implemented a virtual waiting queue. The queue displays a bar that seemingly never moves.
Reader Jim Collins asked, "Do they think just because we lost our jobs that we have time to sit in front of the computer for hours to watch a progress bar?"
The good news is that there is a way to bypass that annoying script on the state website.
While you have the Chrome browser open, simply go to the vertical ellipsis (three dots stacked in the upper right-hand corner). Left-click, then go to more tools, then extensions.
Once there, type in NoScript (see photo). Install that plugin and you will be able to log right into the website with no issues. The plugin/addon can also be used with Firefox. The extension can be uninstalled at any time.
NOTE: You should uninstall the script after you are finished with it as it might prevent other features required to run scripts from working on other websites as well as Facebook.
You are welcome!!!