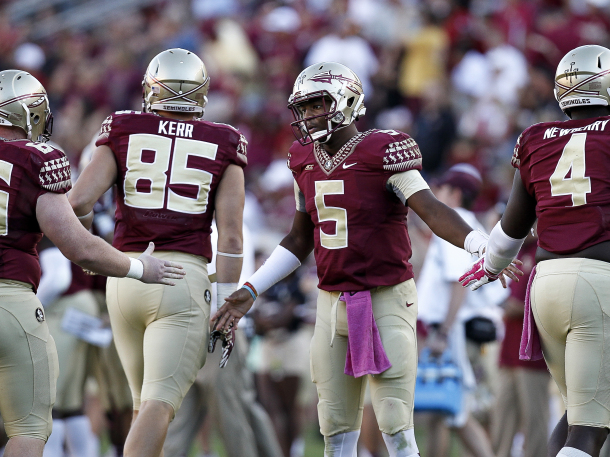 Jameis Winston and the Florida State Seminoles prevailed in a thrilling top five match up with Notre Dame in which the game came down to the final offensive play for the Irish.
The game was all about one team answering another as neither team was able to score more than seven unanswered points against the other.
Notre Dame is the last ranked team scheduled on Florida State's schedule, so the win could possibly be the Seminoles last chance to impress the College Football playoff selection committee.
Notre Dame was able to drive all the way down to the 2-yard line, a drive which included a 4th and 18 conversion. Notre Dame was able to reach the end zone on 4th down from the 2-yard line but offensive pass interference negated the play and set up a 4th and goal from the 18. The game finally ended on a Golson desperation pass to the end zone which was picked off by Pugh.
Scoring Summary:
Everett Golson 1 yard pass to Corey Robinson for a touchdown (ND 7 FSU 0) 2:10 remaining in 1st quarter
Jameis Winston 11 yard pass to Travis Rudolph for a touchdown (ND 7 FSU 7) 0:19 remaining in 1st quarter
Everett Golson 9 yard pass to Corey Robinson for a touchdown (ND 14 FSU 7) 12:00 remaining in 2nd quarter
Roberto Aguayo 28 yard field goal (ND 14 FSU 10) 4:46 remaining in 2nd quarter
Kyle Brindza 34 yard field goal (ND 17 FSU 10) 0:39 remaining in 2nd quarter
Jameis Winston 10 yard pass to Rashad Greene for a touchdown (ND 17 FSU 17) 10:37 remaining in 3rd quarter
Everett Golson 11 yard pass to William Fuller for a touchdown (ND 24 FSU 17) 7:26 remaining in 3rd quarter
Karlos Williams 2 yard run for a touchdown (ND 24 FSU 24) 3:38 remaining in 3rd quarter
Kyle Brindza 46 yard field goal (ND 27 FSU 24) 11:40 remaining in 4th quarter
Karlos Williams 1 yard run for a touchdown (ND 27 FSU 31) 7:39 remaining in 4th quarter
—By Brandon Wilson—
Please follow and like us: