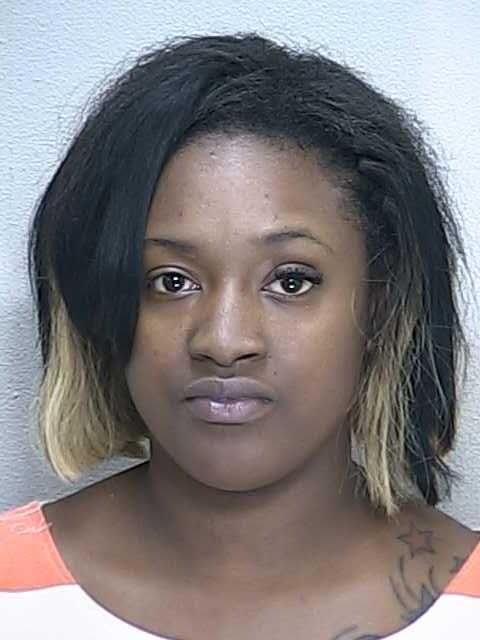 Ocala, Florida — On January 14, 2015, at approximately 8:55pm, officers responded to the El Toreo restaurant, located at 3510 SW 36th Ave., in reference to an altercation that involved an armed female.
Off-duty Marion County Sheriff's Office Deputy, John Lightle, was in the restaurant at the time, eating with his family.
Deputy Lightle stated that as he exited the restaurant, he observed the suspect, later identified as Ketara Calvin, 22, waving a gun in the air and pointing it at people in the parking lot.
Deputy Lightle immediately directed his family to a safe place, and then confronted Calvin. He said Calvin then "racked" the slide of the gun, and pointed it directly at a 19-year-old pregnant female.
Deputy Lightle then quickly disarmed Calvin and secured the weapon until Ocala Police Officer, Richard Knobloch, arrived on the scene.
Calvin told police that she and the victim had "words" on Facebook earlier.
According to reports, Calvin was invited to the restaurant by a group of friends. She stated that when she arrived, the victim was leaving the restaurant. Calvin said that is when the victim punched her in the face with a closed fist.
She told police that she knew the victim was pregnant so she did not hit her back; instead, she retreated to her car.
Calvin said the victim followed her and "mashed" her in the face with the victims hand. That is when Calvin said the victim pulled out a can of mace and sprayed her in the face, but Calvin used her jacket to block the spray.
Calvin then pulled out a handgun from her glove compartment and pointed it at the victim. She said she only did it to scare the victim.
Several females that was with the victim refused to cooperate with police. They would not provide their names or any details about the incident.
The victim told police that even though she and Calvin have mutual friends, she was not invited to dinner. She also stated that it was Calvin that approached her in the parking lot, and began cursing at her and then punched her in the side of the face.
The victim said she maced Calvin in self defense. She said she did follow Calvin to her car, but it was only to mace her again.
Calvin was arrested and charged with Aggravated Assault with a Deadly Weapon.
Ocala Police Department Public Information Officer, Sergeant Angy Scroble, said, "Deputy Lightle is to be commended for his quick thinking and actions that kept everyone safe."