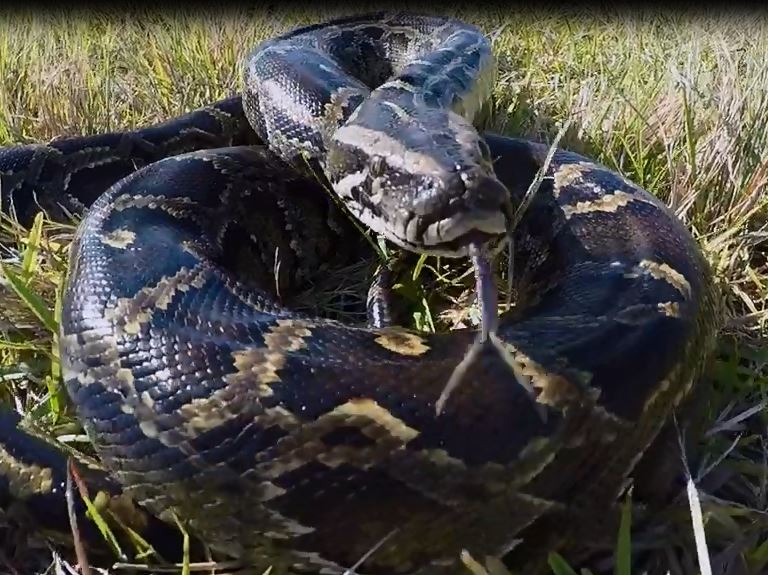 Official Press Release – Want to help conserve Florida's unique Everglades ecosystem? Then sign up for the 2016 Python Challenge™ competition and join the Florida Fish and Conservation Commission (FWC), the Fish & Wildlife Foundation of Florida Inc. and partners to remove invasive Burmese pythons from public lands in south Florida.
Starting Thursday, Oct. 1, you can register for the Python Removal competition online at PythonChallenge.Org. If you are one of the first 200 people to sign up, you will receive a free 2016 Python Challenge™ T-shirt.
Compete to see if you can harvest the longest or the most Burmese pythons and win grand prizes of $5,000 in the team category and $3,500 in the individual category.
"We are providing training opportunities to teach people how to properly identify and safely capture Burmese pythons in the wild," said FWC Commissioner "Alligator Ron" Bergeron. "Nonnative species are a problem for Florida – especially the one-of-a-kind Everglades ecosystem. The Python Challenge is empowering people to be part of the solution to this problem."
In order to register for the Python Removal competition, which begins at noon Saturday, Jan. 16, 2016, and ends at 7 p.m. Sunday, Feb. 14, 2016, you must first take required online training. There are also opportunities for in-person trainings that include a hands-on component where you can practice handling and capturing pythons. Anyone can sign up for in-person trainings – whether or not they are participating in the python removal competition — starting Oct. 1. Training events will teach people how to identify, report and then safely and humanely capture Burmese pythons. Sign up for trainings at PythonChallenge.org.
Visit PythonChallenge.org for information about Burmese pythons, the unique Everglades ecosystem, how to register for the Python Removal competition, training opportunities and resources for planning your trip to south Florida to participate in next year's events.