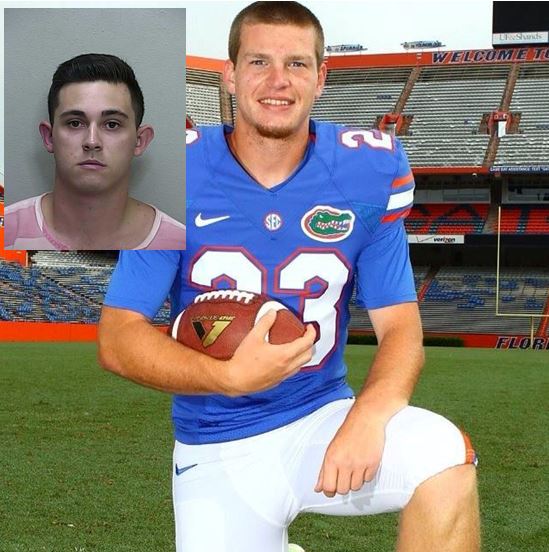 Ocala, Florida — Jefferson Davis Guinn IV, 20, was sentenced to 12 years in prison for the shooting death of Daniel J. Krysalka, also 20.
Krysalka graduated from Forest High School as a star kicker for its football team. After graduating, he walked on to Florida University's football team, where he played for the 2013 season. Teammates from his graduating class said Krysalka was one of the best kickers of all-time.
On March 8, Krysalka and Guinn were in an upstairs bedroom of a home located in the 2100 block of Southeast 15th Lane, Ocala, looking at their weapons — a Kel-Tec .380-caliber and a Kel-Tec 9mm. A third person, Ethan Hayhurst, was also in the room.
While the three were in the bedroom looking at the guns, Hayhurst made the comment that Guinn never cleaned his gun, the Kel-Tec 9mm. Hayhurst and Krysalka then told Guinn to take the gun apart so they could see how dirty it was.
According to reports, after taking it apart Guinn could not reassemble the weapon, so they watched a "how to" video on YouTube and Hayhurst put the gun together. Hasyhurst then handed the gun back to Guinn, at which point it was still unloaded.
Hayhurst said that Guinn was seated in a chair in front of Krysalka, who was seated on the floor.
Once Guinn was handed the gun, he inserted a magazine and racked a round into the chamber. Guinn then pointed it at Krysalka's face and began making fun of people that had scolded him the night before for pointing an unloaded gun at someone. Hayhurst told the detective that the gun then fired and Krysalka fell backward. The bullet went thought Krysalka's mouth.
Guinn plead guilty to Manslaughter with a Firearm on Wednesday.
In a statement to Ocala Post, Assistant State Attorney Nicholas Camuccio said, "This was a very difficult and emotional case for everyone that was involved. The Judge listened to the evidence and testimony from both sides before making his decision. That decision had to have been difficult for the Judge due to the very emotional nature of the testimony given on both sides."
Guinn took full responsibility for the shooting and plead guilty because he did not want to "drag" Krysalka's family through a long trial.
"In the end, the sentence given by the Judge was fair and appropriate for the circumstances," Camuccio said.