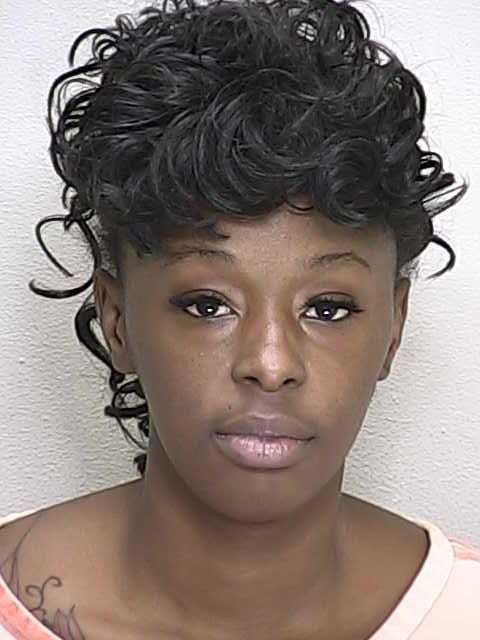 Marion oaks — Marion County Sheriff's Deputies located and arrested Stephanie Jones, 23, after she fled from a traffic stop on December 28, 2014.
According to reports, while patrolling the Marion Oaks area, Deputy Tanya Rodriguez saw a silver four-door vehicle at the intersection of SW 35th Court Road and Marion Oaks Manor with two young children in the vehicle not wearing proper restraints.
Both children, ages two (2) and six (6) were standing up in the front seat of the vehicle.
Deputy Rodriguez immediately initiated a traffic stop on the vehicle to avoid potential injury to the children.
Jones advised Deputy Rodriguez that [she] did not have car seats for the children. Jones was attempting to transport the children from Marion Oaks to the Silver Springs Shores area without any type of child restraints.
A vehicle check revealed a Florida Authorities Seize Tag notification for the vehicle, which was registered to Jones' brother, Jermaine L. Barr.
According to reports, when Deputy Rodriguez notified Jones that she had to seize the tag of the vehicle, [she] began yelling, demanding the deputy provide proof that she was required to seize the tag. The deputy then informed Jones she was not required to provide proof and that she would be arrested if she did not allow the deputy to remove the tag from the vehicle.
With that, Jones snatched her license from the deputy and took off at a high rate of speed. At that point, the children were still not properly restrained.
Jones continued at a high rate of speed, causing the deputy to lose sight of Jones' vehicle. Deputies searched the area, but were unable to locate Jones. Attempts to reach Jones at her home address were also unsuccessful.
On December 31, 2014, Deputy Rodriguez obtained a warrant for Jones' arrest.
On January 2, Jones was arrested and transported to the Marion county Jail.
She was charged with Fleeing and Eluding Law Enforcement, Obstruction, and Felony child Abuse.
Jones was released on $8,000 bond.
Jones has previous arrests for Battery and Fraud.