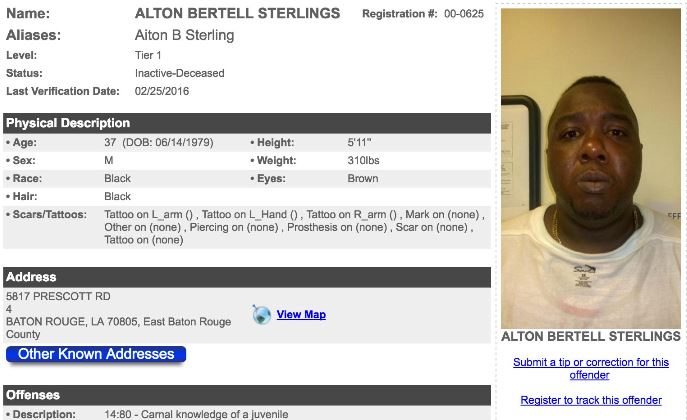 Baton Rouge, Louisiana — On July 5, Baton Rouge police responded to the Triple Food Mart, located at 2112 North Foster Drive.
Police were dispatched after a homeless man called 911 and stated that a black man wearing a red shirt had pointed a gun at him.
According to eyewitnesses, Alton Sterlings, 37, was selling music CD's in the parking lot of the store when the homeless man approached him and asked for money.
Witnesses stated that sterling then pulled out a gun, pointed it at the homeless man, and stated, "I told you to leave me alone."
Because he was no stranger to law enforcement, when police arrived, they quickly recognized Sterlings.
Shortly after police arrived, an altercation between Sterlings and the officers ensued.  This altercation was recorded by body cameras, but not by the individual who turned on their cell phone after the altercation had already began.
The body cameras were dislodged during the scuffle, but continued recording.
Authorities stated that the body cam videos will be made available when all appropriate parties have had a chance to review them.
During the scuffle, one of the police officers yells, "he's got a gun."
In the cell phone video that was released, one of the officers is seen pulling something from Sterlings' pocket. It was later confirmed that Sterlings was armed and that, it was a gun that police removed from his pocket.
Baton Rouge Chief of Police Carl Dabadie, Jr., said, "Sterlings was armed with a gun."
Sterlings was shot during the altercation and died at the scene.
Sterlings, who was on probation at the time of his death, was a sex offender. He was convicted in 2000 of Carnal Knowledge of a Juvenile. This mean that he knowingly had sex, anal sex, or oral sex with a person under the age of 18. Court documents show that, in April of 2000, a 14-year-old reported to her mother that she had missed her period. The mother then took her daughter to a doctor who confirmed that the juvenile was pregnant.
According to reports, Sterlings had been having sex with the 14-year-old for seven months.
Sterlings' arrest record also includes:
9/09/96 – Aggravated battery
 10/31/97 – 2nd degree battery
 1/06/98 – Simple battery
 5/04/00 – Public intimidation
 9/20/00 – Carnal knowledge of a juvenile
 9/04/01 – Domestic violence
 5/24/05 – Burglary of an inhabited dwelling place
 7/11/05 – Receiving stolen things
 9/12/05 – Burglary of inhabited dwelling place
 3/17/06 – Simple criminal damage to property, simple robbery, simple theft, drug possession, misrepresentation during booking, simple battery, aggravated battery
 4/12/06 – Aggravated battery, simple criminal damage to property, disturbing the peace, unauthorized entry
 4/04/08 – Domestic abuse battery
 6/03/09 – Resisting an officer, drug possession, receiving stolen things, possession of stolen firearm, illegal carrying of a weapon with CDs, sound reproduction without consent
 10/12/09 – Illegal carrying of weapon, marijuana possession
 8/13/15 – Failure to register as a sex offender
 4/08/16 – Failure to register as a sex offender
 6/14/16 – Ecstasy and marijuana possession
Sterlings' family said, "He was on probation and would not have had a gun."
Media frenzy
When the amateur cell phone video of the Sterlings shooting "hit" social media, the liberal media and the Obama administration quickly grabbed a hold of the story and made wild, careless accusations. Those accusations ultimately created unnecessary tension between law enforcement agencies and the public.
Officials said that, while they do recognize that there are some "bad apples" in some law enforcement agencies, the public should not chastise all police officers before all the facts in a particular case are known.
Louisiana Gov. John Bel Edwards said that he has asked the U.S. Department of Justice to take over the investigation.
In a press release, the governor said, "We're not abdicating anything. we're making the best decisions to make sure that the situation remains under control here in Baton Rouge and that we don't experience any more upheaval … in our communities here in Baton Rouge and around Louisiana."
Gov. Edwards said, "One of the crucial next steps will be to determine what happened before the confrontation ensued Tuesday."
The governor does not want anyone, in any community, to jump to conclusions based on a video that was recorded midway through the incident.
The two BRPD officers, Blane Salamoni and Howie Lake II, have been placed on administrative leave pending the outcome of an investigation.