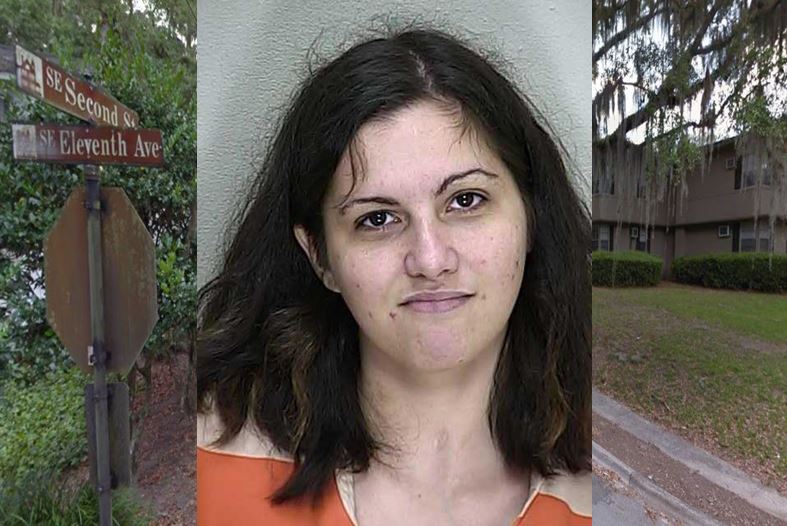 Ocala, Florida — Ocala police arrested a woman they say made threats to her boyfriend and children not related to her.
While police were enroute to 2008 Southwest 2nd Street in response disturbance call, they found a woman, later identified as Maria Baker, 28, standing in the middle of the road screaming obscenities to other females who were standing in front of a residence located at 2067 Southwest 2nd Street.
According to the arrest affidavit, there were multiple articles of clothing and paperwork scattered across the street and a neighbors front yard.
When the officer approached the woman, and before he could say anything, Baker stated, "Yeah, this is my sh*t. I threw it, what does it matter?"
When the officer told Baker that she would have to pick up her belongings from the street, baker replied, "No, I am not going to pick it up. Arrest me, you f*cking cracker."
According to reports, while Baker continued to yell profanities, the officer questioned witnesses at the residence.
A man told the officer that Baker was pregnant with his brother's child. Baker had been homeless and the brother had gotten her pregnant, therefore the family had been letting Baker live with them.
The man stated that Baker and his brother had been arguing and she was angry with him. He said she was walking around the house kicking doors and calling his brother a ni**er.
The man then told Baker that she should leave.
The man said Baker then pulled out a gun, pointed it at him, and stated, "This is not over."
With that, the officer walked over to Baker and began to read Miranda Rights to her.
As he was doing so, Baker screamed, "F*ck you, you f*cking ni**ers.  All of you are ni**ers, you black pieces of sh*t."
As Baker continued to scream, the officer quickly handcuffed her and placed her in the back of his patrol car.
While finishing the investigation, the officer also learned that Baker had threatened the lives of children who lived at the residence.
The officer searched the area for the handgun, but could not locate it.
According to reports, while Baker was being transported to the Marion County Jail she told the officer that if he would agree to arrest her boyfriend, she would tell the officer where she hid the gun.
The officer then told Baker she was going to be charged with Aggravated Assault either way.
Baker asked, "Why?" She then stated, "It didn't even have bullets in it."
Baker was charged with Aggravated Assault, Disorderly Conduct, and Littering.
She is being held on a $3,000 bond.