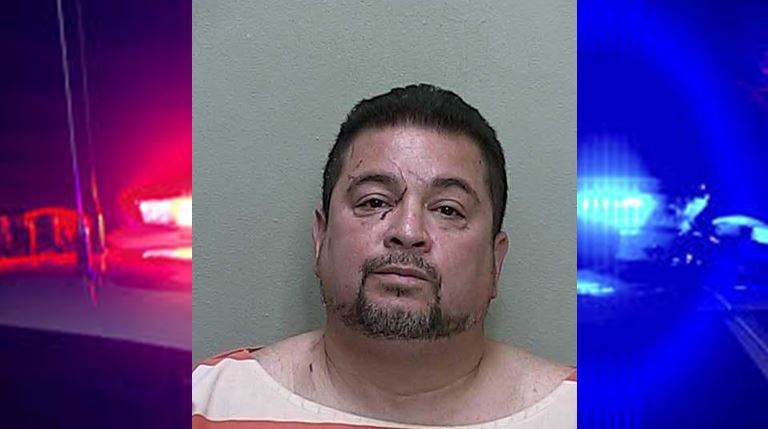 Ocala, Florida — Ocala police say a witness called 911 after she witnessed a man beating on a teenage girl while stopped in the middle of traffic. The witness told dispatchers that she saw the man punch the girl in the face with his fist.
The victim, 16, told police that she had been disciplined for her behavior in school, and that the school had notified her father, Victor Manuel Montes Jr, 53,
The 16-year-old told police that when her father arrived to pick her up he was angry. The teen said the two of them started to argue, at which time her father began to punch her in the face with a closed fist while sitting in his vehicle. Montes had already left the school and was stopped in traffic.
The teen stated that she tried to defend herself and punched her father back.
According to reports, the teen and her father then exited the vehicle.
Once outside the vehicle, the witness stated that the father continued to hit the girl until they both fell to the ground and began to wrestle with one another.
Multiple witnesses reported that during the struggle, Montes grabbed the girl by the back of her hair and pulled her head backward.
Police said Montes received several scratches due to the fact that the teen was trying to defend herself while Montes was pulling her hair.
According to reports, the witness who called 911 pulled the teen into [her] vehicle and kept her safe until police arrived.
Police said that the teen does not live with her father, but he had to pick her up because the girl's mother was working.
Montes told police that his daughter has been a "behavioral problem", but denied punching her. However, he did admit to backhanding his daughter in the face.
Montes was arrested and charged with Child Abuse-Cruelty Toward a Child.