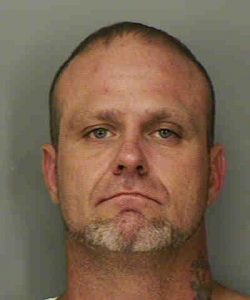 Winter Haven, Florida — On Monday, October 21, 2013, the Polk County Sheriff's Office detectives arrested Todd William Clark, 41, of Winter Haven, charging him with Grand Theft and Business Burglary.
On May 19, 2013 Marc's Auto Repair/Thrift Store was burglarized. Approximately $500.00 in miscellaneous items were stolen to include a child's bicycle, stuffed animals along with several CD's and DVD's. It was also learned several outgoing calls from the business to an unfamiliar number were made during the time of the burglary.
A pair of jeans, a shirt, and a pair of socks were discovered in the bathroom of the business, none of which the business owners could identify. It appeared the unknown suspect had undressed prior to leaving the scene. The discarded clothing was collected as evidence.
The discarded clothing was sent to the Florida Department of Law Enforcement for DNA testing. When the results were returned in September 2013, the DNA on the clothing turned out to be a positive match for Clark. Clark's criminal arrest history includes 21 felony charges, 13 misdemeanor charges and 15 charges with an unknown level, and one failure to appear. His past charges range from Conspiracy to Commit Bank Fraud, Petit Theft, Carrying Concealed Weapon, Grand Theft Auto, Battery, Assault on Law Enforcement Officer, multiple Drug related offenses, and Trespassing to Disorderly Intoxication. Clark has been to state prison three times, in 1994, 2001, and 2008.
Detectives located Clark and arranged to meet him at the PCSO Central District office where a post Miranda interview was conducted. Clark told detectives he had consumed a large amount of alcohol, illegal narcotics and controlled substances the night of the burglary telling detectives he did not "remember" committing the burglary, but remembered the clothing he wore the night of the incident which positively matched the clothing found in the business.
Clark told detectives he remembered being completely unclothed (except for boxer shorts) in the area of Lake Howard Drive (Winter Haven) the morning after the incident occurred. Clark was placed under arrest and transported to the Polk County Jail without further incident. He has since bonded out of jail.