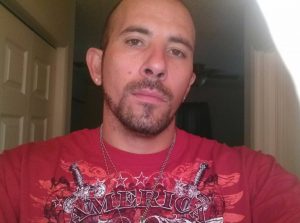 Ocala, Florida — The Marion County Sheriff's Office received a call on Monday, October 21, 2013, from an Ocala woman claiming that she had caught her "significant other" molesting her daughter in the child's bed.
According to reports, the mother told deputies that she woke up around 5:40 a.m., and discovered her significant other, Scott Johns, 31, was not in their bed with her. That's when she got out of bed to look for him, first checking the bathroom and when he wasn't in there she turned on the hall light to look in her daughter's room, according to reports.
When the mother looked into the girl's room, she found Johns sitting on the bed wearing loose shorts and a t-shirt. The woman said Johns was leaning over top of the 9-year-old and he had her pajama shirt pulled all the way up leaving her chest exposed, according to Deputy Counts.
The mother then confronted Johns, asking him what he was doing. Johns claimed that he was just saying goodbye to the girl before he went off to work. The mother told authorities that Johns does not normally tell the children goodbye before going to work and stated that the children were going to sleep in that day because it was a teacher's workday, therefore school was out.
According to reports, Johns left the child's room and returned to his own bedroom.
The mother asked her daughter what had been going on and before getting very upset and beginning to cry, the girl told her mother that Johns had been licking her chest and trying to get her to touch him, but she pulled her hand away.
The girl was then taken to Kimberly's Center for Child Protection to be forensically interviewed.
According to reports, during the interview the girl disclosed several incidents of sexual abuse by Johns. She told investigators, that Monday morning Johns woke her up by grabbing her hands in an attempt to make her [the victim]touch his "wiener". She advised that Johns then pulled her shirt up and began licking her "breast".
The victim told authorities that the sexual abuse occurred at three different locations in Marion County. The girl advised that the abuse began while they were living in the Carlton Arms Apartments, continued when they moved to the Bahia Oaks Subdivision, and then in their current residence.
Authorities say the girl advised that Johns would lay her on her side and force her to have anal sex, in other instances force her to perform masturbation on him, and told her to put his wiener in her mouth "like a lollipop" on multiple occasions.
According to the victim, all incidents took place in her [the child's] bed.
Scott Michael Johns was arrested and charged with Capital Sexually Battery. If convicted he could face life in prison.
He is currently being held on a $100,000 bond.
Scott Michael Johns worked for the Florida Department Of Corrections at The Lowell Correctional Institution, he was hired in 2009, he was terminated upon his arrest.