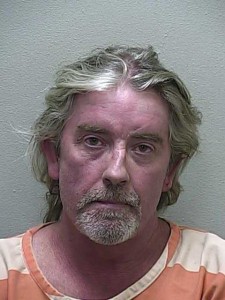 Ocala, Florida — On October 19, 2013 Deputy Paul Hahn responded to the 5200 block of SW 21st Place in reference to a disturbance.
According to Deputy Hahn when he arrived he quickly determined that Rocky Estes, 43, had several loaded weapons and Estes had advised his girlfriend he was not going back to jail without a fight.
Estess' girlfriend advised Deputy Hahn that he [Estes] had been drinking heavily and passed out. When Estess' girlfriend tried to wake him he punched her in the head then pushed her to the ground.
The girlfriend then called 911 and she says that is when Estes began breaking items in the house and yelling, "I am not going back to jail without a fight."
After Deputy Patrick Doody arrived on the scene he made telephone contact with Estes. Deputy Doody tried several times to get Estes to drop his weapons, but Estes simply stated, "I am not going back to jail." Deputy Doody says shortly after Estes made that statement he [Estes] racked his shotgun. Estes then yelled, "I got a gun and so do you. I got something for you."
Finally after several more orders were given for Estes to exit the residence, he walked out the front door and he was detained.
Several loaded weapons were found in the residence, they were collected and placed in evidence By Deputy Turner.
Estes was arrested and transported to the Marion County Jail without further incident. He was charged with Domestic Simple Battery and Assault On A Law Enforcement Officer.
Estes was also arrested in April of 2004 for child abuse.