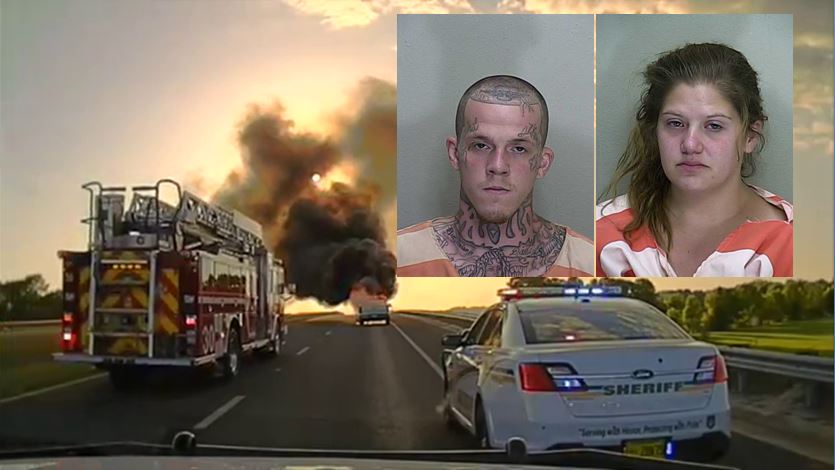 Ocala, Florida — Two people are in custody following an armed residential burglary Sunday.
According to reports, Lane Ravey, 30, and Natalie Kaiser, 31, entered a residence and allegedly stole $100,000 in cash, jewelry, two gold coins, one silver coin, two hats, and a motorized bicycle. MCSO detectives are working to verify the total loss of property reported stolen by the victim.
The victim's brother witnessed both suspects enter his brother's home located on Southeast 132nd Street Road on U.S. Highway 441.
The victim followed the suspects, at which time Ravey pointed a silver revolver at the victim. Reports suggested that the revolver might have been a BB gun.
Article continues below
A short time later, Deputy Luke Blackburn heard the description of the suspect vehicle over the radio and spotted it disabled in the middle of the road. The getaway vehicle had broken down and caught fire.
Blackburn reported that Kaiser was standing outside the vehicle and that he saw Ravey attempt to pull a long rifle out of the cab of the truck.
Deputy Blackburn and Deputy John Petit then took both suspects into custody.
Deputies attempted to extinguish the fire, but were unsuccessful. Marion County Fire Rescue arrived a short time later.
While in the back seat of a patrol car, Ravey, who had refused to identify himself, attempted to kick the rear window out. He was then placed in hobble restraints.
During a search, deputies recovered several baggies of methamphetamine, methadone pills, and a partially burnt marijuana cigarette.
Detectives stated that Ravey had to be transported to a local hospital after he informed them that he had swallowed five balloons of heroin. Paramedics also found a glass pipe, several of the stolen items, and a baggie of heroin near the suspects anus.
Ravey is currently being treated in an Intensive Care Unit.
Once released, Ravey will be charged with Possession of Methadone, Possession of Methamphetamine,  Possession of Heroin, Possession of Drug Paraphernalia, Armed Residential Burglary, and Grand Theft.
Kaiser was charged with Armed Residential Burglary and Grand Theft. Additionally, she will face charges for outstanding warrants.
Ravey had just been released from prison.