[Video brought to you by our partners at Accuweather.com]
Florida residents are once again preparing for a powerful hurricane.
The Florida Keys is currently under an evacuation.
"This hurricane has the potential to be a major event for the East Coast. It also has the potential to significantly strain FEMA and other governmental resources occurring so quickly on the heels of Harvey," Evan Myers, expert senior meteorologist, and chief operating officer said.
On Monday afternoon, Florida Gov. Rick Scott declared a state of emergency for every county in Florida in anticipation of Irma. A state of emergency was also declared in Puerto Rico earlier in the day.
"A large area of high pressure across the central North Atlantic is helping to steer Irma," AccuWeather Hurricane Expert Dan Kottlowski said.
Article continued below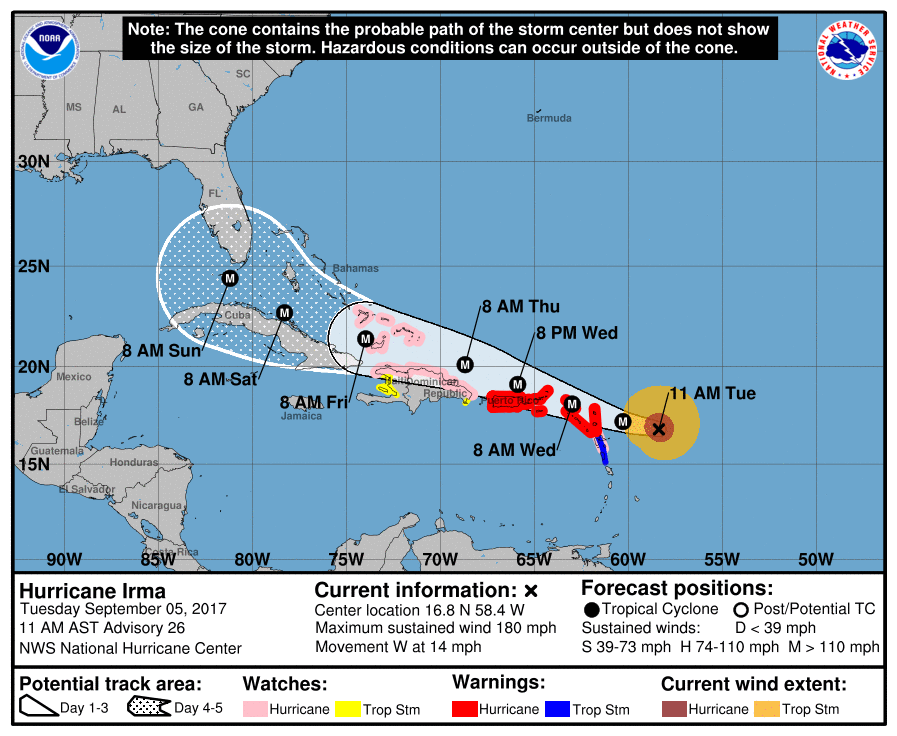 "The eastward or northeast progression of a non-tropical system pushing across the central and eastern U.S. this week will highly impact the long-range movement of Irma," Kottlowski said.
In Marion County, there have been rumors that school closures have already been announced.
Marion County Public Schools Public Information Officer, Kevin Christian, said, "[That] information is not accurate."
Christian said, "We continue monitoring the latest updates on Hurricane Irma.  If we decide to change school schedules, we will do so based on student safety as the top priority.  We will use our Skylert messaging system, district and school websites, and Twitter accounts to share that information as soon as possible.  We are also confirming inventory of our food service operations and custodial services at each of our 14 schools that can serve as impact or host shelters.  Finally, we're encouraging our employees and school families to be fully prepared at home for what course this storm may take."
Sandbag locations:
Sheriff's district offices will have four self-serve sandbag locations. The locations will open at 8 a.m., Wednesday, September 6.
Locations:
North Multi-District Office, 8311 N. U.S. 441
South-Central Multi-District Office, 3260 SE 80th St.
Dunnellon District Office, 19995 SW 86th St. Unit 3
Forest District Office, 16000 E. State Road 40, near Lynne.
Additionally, the City of Ocala will open two sandbag sites begining at 8 a.m., Wednesday.
Locations:
Ed Croskey Recreation Facility, 1510 Northwest Fourth Street
Tuscawilla Park, 300 Northeast Sanchez Avenue
There is a limit of 10 sandbags per person. The stations will be open Wednesday, Thursday, and Friday.
Article continued below
It is important to create a kit of supplies that you could take with you if you are forced to evacuate. The kit will also be useful if you are able to stay in your home, but are still affected by the storm, such as through the loss of power or water. Prepare your kit ahead of time and you can alleviate a lot of the potential stress in a chaotic situation. Do not wait until the last minute as supplies may be sold out.
Some recommended items to include are:
Non-perishable food (enough to last at least 3 days)
Water (enough to last at least 3 days)
First-aid kit (include any prescription medication you may need)
Personal hygiene items and sanitation items
Flashlights (have extra batteries on hand)
Battery operated radio (again, have extra batteries)
Waterproof container with cash and important documents
Manual can opener
Lighter or matches
Books, magazines, games for recreation
Special needs items: pet supplies and baby supplies if applicable
Cooler and ice packs
A plan for evacuation and for if family members are separated