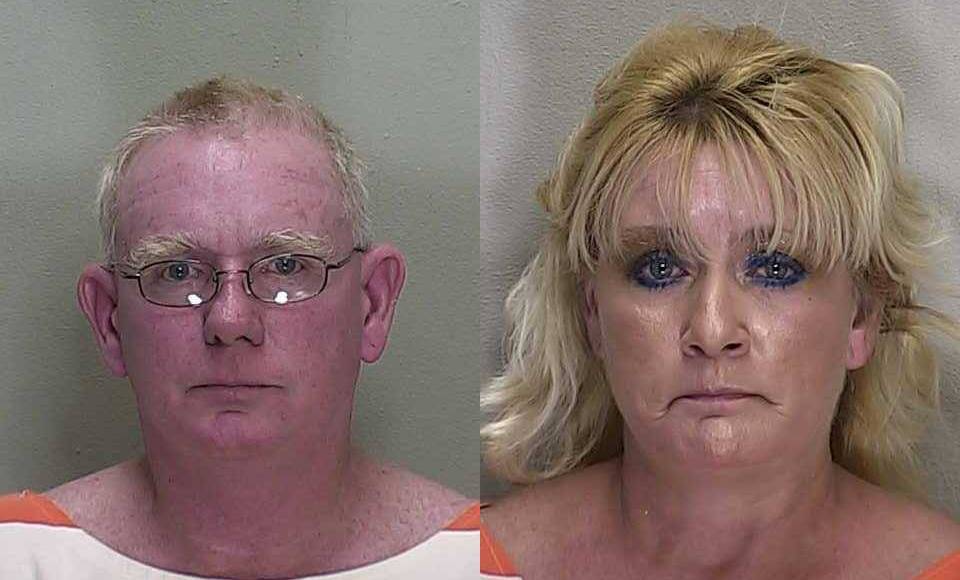 Ocala, Florida — Two people were arrested after they claimed they were part of an organization called the Navy Seal Foundation.
Ocala Police Officer Diesso, was dispatched to Big Lots located on East SR 40 in reference to solicitors suspected of illegally accepting nonprofit military contributions.
When Officer Diesso arrived on the scene he saw a male and female dressed in military fatigues standing next to a portable table. There were multiple items on the table, to include military stickers, key chains, drinking cups, flags and lanyards. All of the items had various insignias to include, Army, Navy, Air Force and Marines. These type of giveaways are typically obtained from military recruiters.
Officer Diesso made contact with both subjects identified as Stephen J Concannon, 53, and Gloria Dianne Woodside, 48. Concannon was advised that there had been a complaint to the legitimacy of his solicitations and that the officer needed to verify that he was within the guidelines of the law. Concannon stated that he was collecting donations for the Navy Seal Foundation and that he was from the Support the Troops Foundation that is based out of Kissimmee, Florida.
Concannon then provided several sheets of paper to include a computer printed Support the Troops and Families Foundation that stated that he was a part of a nonprofit organization collecting monies for the troops and their families. The second sheet was a computer generated letter for the Navy Seal Foundation/ Nonprofit organization. The third sheet was a photo copied Certificate of Status from the Secretary of State, Dawn Roberts, with the seal of Florida and an authentication code of 101202085648-600188281156#1 on it. The certificate showed that it certifies that the United States Veteran Assistance, INC is a corporation organized under the laws of the State of Florida and that they have paid their dues and filed with the state on December 31, 2011. The fourth document Concannon provided was a FORM 1023 from the IRS stating that a David West with United States Veteran Assistance, INC was exempt. The form also had the name and employee ID number (EIN) of 27-4109842 for David West as well as a phone number . The final documents that he provided were photo copies of a corporation filing from the Florida Division of Corporations for United States Veteran Assistance, INC.
While looking through the documents Officer Diesso noticed that the phone number for David West and the Support the Troops phone number was the same. Officer Diesso asked Concannon where the office was and he stated that the Kissimmee office closed down and they were opening an office at Six Gun Plaza on Monday. With all of the conflicting information Officer Diesso decided to call David West at the phone number listed on the documents, and when he did, Concannon's phone rang at the same time.
According to reports, Officer Diesso saw Concannon open his phone, and at the same time Officer Diesso's call was disconnected. Officer Diesso then asked Concannon if he had just answered his call and he stated "Yes". Concannon stated that everything was fake. He also said that he didn't belong to any organization and that all the documents that he provided were forged and fake. He said that he had worked for this organization in the past but he no longer represents them and that he was doing this on his own.
Gloria Woodside was then questioned about the incident at which time she attempted to deny knowing what was going on. However she later admitted to illegally taking money from people under the false pretense of a donation for a military organization.
Concannon and Woodside said they are engaged and have been running the scam for several months. They told police they have been making approximately $200.00 or more per day with the scam. The couple said they did it because "times are hard."
Concannon and Woodside were arrested and charged with Failure to Register Prior to Soliciting Contributions (Felony) and released on $1,000 bond.