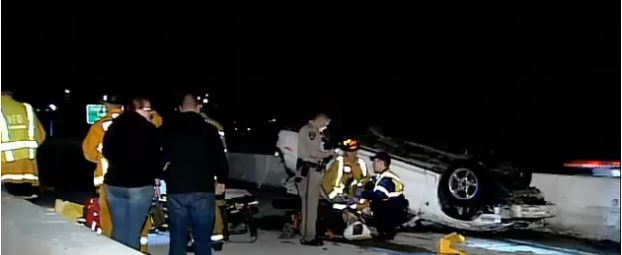 Chula Vista, California— On February 5, 2014, firefighters with the California Chula Vista Fire Department responded to a serious crash on Interstate 805 near East Naples Drive, where a sedan had flipped over a concrete guard rail leaving two people injured inside the vehicle.
Upon arrival, the firefighter driving the engine positioned it behind an ambulance in order to provide a safety barrier for emergency crew.
Shortly after, a California Highway Patrol Officer, who has refused to give his name, arrived on scene and ordered Jacob Gregoire to move the fire engine from blocking the traffic lane or he would be arrested for blocking traffic. Gregoire, who was attending to the overturned vehicle and injured victims, responded, "I will have to check with my captain."
That is when the CHP officer became angry and ordered Gregoire away from the accident. The CHP Officer then placed Gregoire in handcuffs and escorted him to his patrol car.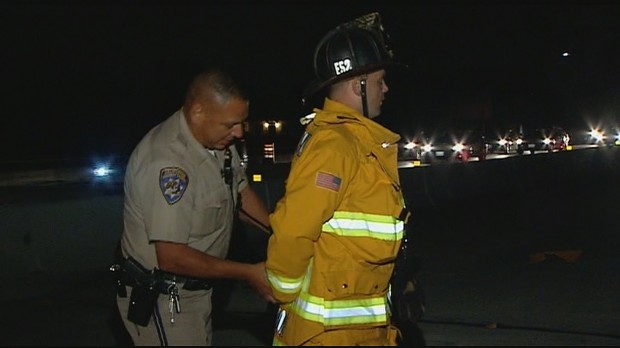 Chula Vista Fire Chief Dave Hanneman said fire crews are trained to position their fire engines to block oncoming traffic for safety reasons. He went on to say, "I know clearing the highway is a priority for CHP, but our number one priority is the safety of our firefighters and patients."
Supervisors from both agencies had to meet at the crash scene before the CHP officer would release Gregoire.
Attorneys said that the CHP could actually be sued for falsely detaining a firefighter. In 2008, a firefighter in Hazelwood, MO. was awarded $17,500, after he was arrested by an officer for refusing to move his fire engine while protecting an emergency scene.

The CHP officer is being accused of allowing his ego to get in the way of his duty to protect and serve.
Both agencies met today to discuss the matter. CHP issued a statement, calling it an unfortunate incident.
Ocala Post reached out to CHP, our e-mails were not returned.