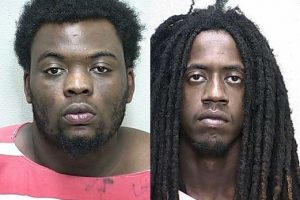 Two people were arrested following an armed robbery at the Citgo gas station, located at 1517 Southwest 10th Street, Ocala.
The Ocala Police Department received a call at approximately  5 a.m., Saturday, about the robbery, which had just taken place.
According to reports, the clerk told police that the robber entered the store, pointed a handgun in his face, and stated "hurry up". The clerk then emptied the money into a plastic bag.
The suspect then fled the store on foot and entered a vehicle that had been waiting for him in the Center's parking lot.
Consequently, Ocala police were already conducting surveillance on the store with the use of an electronic device.
Police quickly set up a perimeter, and due to observant witnesses, police were able to track the robbery suspect, identified as Avery G. Patterson Jr., 20, to a residence in the 2600 block of Northwest 19th Avenue.
Police also located the getaway driver, Jamonta T. Jamerson, 19, and the blue Mazda that was driven by the suspect.
Upon searching the vehicle, police found a semi-automatic handgun, some of the cash taken from the store, and the electronic surveillance device.
Patterson told police he had been fired from his job at Sonic and needed the money to fix his car and pay traffic citations.
Jamerson stated that when police pulled up into the yard, he tried to flush part of the stolen money down the toilet. He said he received half of the money in return for being the getaway driver.
Patterson and Jamerson were arrested and charged with Robbery with a Firearm.
Patterson has a previous arrest for Battery.
Jamerson has previous arrests for Grand Theft of a Firearm and Unlicensed Electric Weapon (x2).
The robbers are being held on a $50,000 bond each.