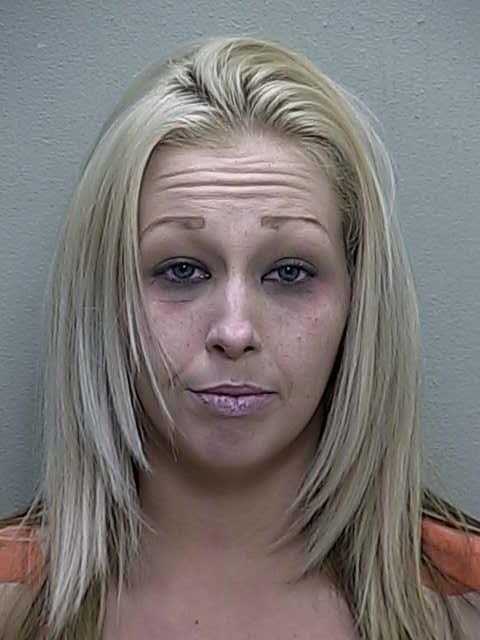 [Last updated on May 10, 2017, at 1:22 p.m.]
Ocala, Florida — On May 6, a 26-year-old Crystal River woman was arrested Saturday night after she struck a pedestrian with her car and fled the scene.
The Pedestrian, Chad E. Judd, 45, was transported to Ocala Regional Medical Center where he later died.
The Ocala Police Department received a call from a witness who was able to follow the vehicle that fled the scene.
The witness told police that the driver, later identified as Brittney Titus, was driving a silver Toyota when she struck a man crossing the street in the 2600 block of State Road 200. Titus then sped off. The witness said the man was carrying food at the time he was hit.
The witness continued to follow Titus and was able to lead police to the area of Southwest 19th Avenue Road and Southwest 80th Street.
Police said they were able to locate Titus' vehicle, which had front end damage and a shattered windshield.
According to reports, Titus told police she was on her way to Taco Bell when she drove through an intersection and "hit something".
Titus stated that she pulled into a parking lot and then re-entered the road way when another vehicle pulled up next to her. Titus said that when she drove off the car began to follow her, at which time she turned down a side road.
Titus told police that she did not know her way around Ocala and was trying to find her way back to State Road 200.
When asked if she looked to see what she hit; Titus stated, "it was way back there" and that she "just started freaking out".
Police also asked her if she had a working cell phone. Titus said that she did have a cell phone, but did not call 911 because she did not know what to do.
Titus was arrested and charged with Leaving the Scene of a Crash Involving a Fatality.
Titus was also cited for careless driving on April 5, after she caused a car crash on State Road 200.
On May 7, Titus was released from jail on a $25,000 bond.
Please follow and like us: