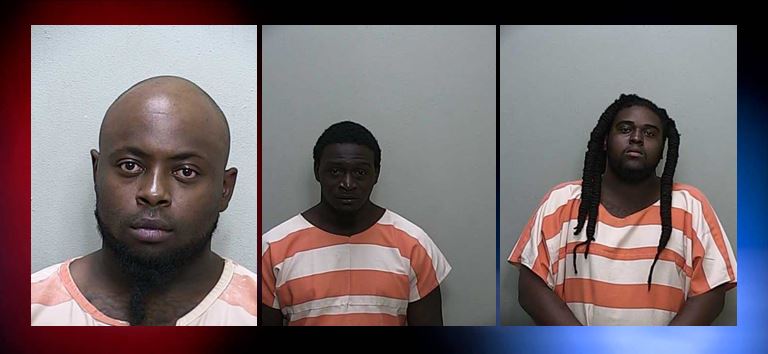 Ocala, Florida — Ocala Police Department  Major Crimes Detectives are investigating a shooting that occurred on Sunday at approximately 3 a.m.
OPD Lt. Angy Scroble said that two men were shot.
The victims were transported to a local hospital with non-life threatening injuries.
The shooting occurred in the area of Northwest 12th Street and Northwest 13th Avenue.
According to reports, the incident may have involved a crowd that had disbursed from the Colosseum Night Club just moments before the shooting.
In a separate case, three men were arrested after they fired shots at a passing motorist in the area of 1914 Southwest 3rd Street, Ocala.
Police responded to the shooting at approximately 3:43 a.m.
Police said the victim was not injured. However, one of the bullets struck the victim's vehicle.
The victim told police he was passing through the neighborhood when someone began firing shots. The victim fled the scene and drove to the nearest business where he called 911.
When police arrived, they found three black males leaning up against a silver Chevy Impala;  Jerell T. Mack, 27, Ge'Audray T. Fluker, 25, and Russell E. Tolbert, 27.
The victim was able to positively identify the shooter, later identified by police as Mack.
According to reports, there were two firearms in plain sight inside the Impala — a .380 Semi-Automatic Smith & Wesson and a .40 Caliber Glock P23. Both weapons had previously been reported stolen.
During the investigation, detectives learned that the men might have been involved in the earlier shooting, therefore police had the Impala towed to OPD for further investigation.
The vehicle is registered to Fluker's father.
OPD detectives later learned that convicted felon, Terrance Woods, was the person who shot the two men in the area of Northwest 12th Street and Northwest 13th Avenue. Woods is facing charges of Second-degree Murder.
Mack was arrested and charged with Aggravated Assault with a Firearm and Possession of a Weapon by a Convicted Felon.
Tolbert was charged with Possession of Marijuana.
Fluker was charged with Possession of Stolen Firearms (x2) and Possession of marijuana.
According to court records, all three suspects are convicted felons with lengthy criminal records.
No further information is available at this time. The investigation is ongoing.
If you have any information about Woods' whereabouts, please call the Ocala Police Department at 352-369-7000, Crime Stoppers at 368-STOP, or text 274637 using keyword 368-STOP. Tipsters can also visit www.ocalacrimestoppers.com. Anonymity is guaranteed.