Ocala, Florida – A Florida Highway Patrol trooper was killed in the line of duty today while working a traffic crash on Interstate 75.
At 1:40 p.m. today, an FHP Trooper arrived on the scene of a two-car crash on I-75 southbound at mile marker 341.
Both cars involved in the crash were located on the shoulder.
Just after 2:00 p.m. as the trooper was talking with the tow truck driver, a multi-vehicle crash occurred in the southbound lanes of I-75, in the same area. During the crash, a southbound pickup truck traveled onto the east shoulder and struck the FHP Patrol vehicle, the trooper, the tow truck driver and another pedestrian as they stood on the shoulder of the road. The trooper and the tow truck driver were pronounced deceased on the scene. The third pedestrian was transported in critical condition to Ocala Regional Hospital.
Northbound lanes of I-75 remain open. South lanes of I-75 have heavy delays due to the traffic homicide investigation.
Travelers that must go south can access I-75 southbound from the Belleview/484 I-75 on-ramp. Every Ramp before the Belleview exit is closed.
As more information is confirmed, an update will be sent out.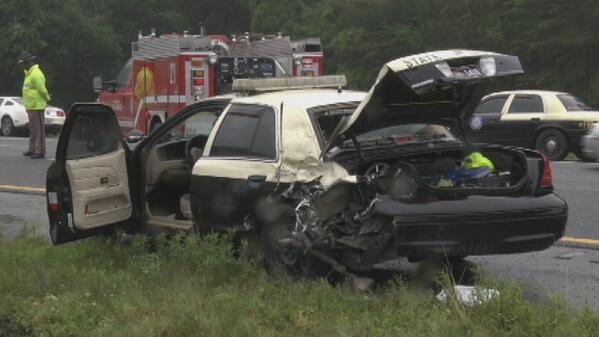 [Updated at 7:02 p.m. on May 3, 2014]
One southbound lane is now open. FHP will continue to investigate the scene as traffic slowly clears.
Ocala Post cannot release the names of the deceased at this time.
[Updated at 12:11 a.m. on May 4, 2014]
During a press conference tonight, the identities of those killed and injured in Saturday's tragic crash were released. Ocala Post had previously not released information that was received in a tip, out of respect for the families; fearing notification of next of kin had not been made.
The Florida Highway Patrol Trooper has been identified as Chelsea Renee Richard, 30, and the tow truck driver, who reportedly worked for Duggan Towing in Ocala, was identified as John Duggan. The injured man, George Robert Phillips, was transported to Ocala Regional Medical Center, where he is currently still listed in critical condition.
Traffic was at a standstill for nearly eight (8) hours on Saturday. Drivers were stuck in their vehicles and children grew anxious as the hours passed, said officials.
Officials said this is a very complicated accident involving a total of seven vehicles and will take investigators time to sort out all of the details. Sergeant Tracy Hisler-Pace, Public Affairs Officer for the Florida Highway Patrol, said she would not speculate on many of the questions that have been left unanswered.
Richard was a nine (9) year veteran of the FHP and was described as a loving mother that has left behind a 4-year-old son.
As Sergeant Hisler-Pace described Richard, it could be heard in her voice that she was trying to hold back her tears.
"This is a tragic day for the state of Florida and for the men and women of the Florida Highway Patrol," said FHP Director Colonel David Brierton.
Further information on Duggan and Phillips was not immediately available to Ocala Post.
FHP also would not release any information in regards to the driver that caused the deaths of two innocent people and badly injured another. Officials did say that they do not believe alcohol was a factor, however, it has not been officially ruled out.
This is a sad situation for those that lost their lives, the injured, as well as all family members that are left with so many unanswered questions. Tonight, these families will go to bed not knowing, and without their loved ones.
Remember, Ocala Post welcomes comments and submitted photos. If you knew any of the parties involved and would like to provide further information, use Ocala Post's "Contact Us" page, or "Tweet" them to @ocalapost .