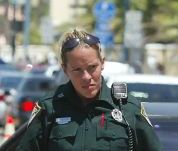 New Smyrna, Florida — On Saturday, October 19, 2013, Sergeant MacDonald was advised that a Volusia County Sheriff's Office patrol vehicle was driving north on SR 415 in a very erratic manner. MacDonald was also advised that the marked patrol unit was being followed and recorded by a witness.
During the course of the phone conversation with Central Dispatch, the witness provided a VCSO car number 174166 and tag number 47364. Sergeant MacDonald checked RMS and determined that the VCSO car was assigned to Deputy Stephanie LeClerc, 37 . Based on the information provided by the witness, Sergeant MacDonald advised Central dispatch to give out a BOLO to units that were in the area.
Deputies Chris Higgins and Jose Ramos first observed the VCSO patrol vehicle in question. After following the vehicle to 3526 Disera Way, New Smyrna Beach, Deputy Higgins and Ramos approached the vehicle and recognized the driver as Stephanie LeClerc, a Volusia County Deputy.
Higgins and Ramos also discovered that LeClerc was not alone in the vehicle, LeClerc had a 7-year-old girl in the front passenger seat of her patrol car.
Suspecting possible impairment, Higgins and Ramos contacted Sergeant MacDonald to advise him of the situation. Sergeant Keith Peck was then requested he be at the scene to conduct a DUI investigation. Peck was nearby at an event working Special Events DUI Enforcement.
Upon arrival Peck made contact with LeClerc who was sitting in her patrol vehicle. Peck also observed that LeClerc had a child in the front seat of her patrol vehicle.
Peck advised LeClerc he was conducting a DUI investigation and she said she understood. Peck asked if she would perform a field sobriety test and she said she would.
As deputy LeClerc stepped out of the vehicle Peck noted that she could barely keep her balance.
The following tests were performed:
Walk and turn
LeClerc was instructed on how to proceed with the exercise by Sergeant Peck.
LeClerc lost balance during the instruction phase Eight times, stopped walking six times, did not touch heel to toe on any of the steps, stepped off the line six times, and used arms for balance and turned.
Reports indicate during the Walk and Turn test, LeClerc almost fell to the ground after losing her balance.
One Leg Stand
LeClerc was instructed on how to proceed with the exercise by Sergeant Peck.
LeClerc was swaying while balancing, used her arms for balance, and put her foot down nine times during the test.
The child was not harmed and was released to Deputy LeClerc's sister. It is not clear at this time what Deputy LeCerc's relationship is to the child.
LeClerc was placed under lawful arrest for DUI and transported to District five for DUI processing where she refused to submit to a breath test even after she was read complete implied consent warnings. She has been charged with DUI and Child Neglect. She was booked into the Volusia County jail and released on bond several hours later.
Investigative reports and dash cam video of the incident are now in the hands of Internal Affairs.
Deputy LeClerc has been placed on administrative leave with pay, and although she was driving her patrol car she was off duty at the time of her arrest.
LeClerc has worked for the Volusia County Sheriff's Office since 1999.