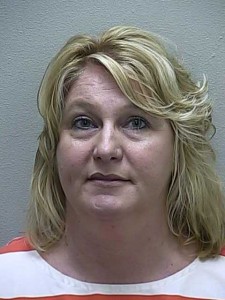 Ocala, Florida — On April 26, 2014, Kathryn Altman, 49, business woman and former owner of Ray the Locksmith, Inc., in Ocala, was arrested by the Marion County Sheriff's Office on a felony warrant.
Corporation papers filed with the Florida Department of State Divisions of Corporations show Altman listed as the President/Officer/Director and Registered Agent of the business. George Altman is also listed as an Officer/Director of the company.
However, According to the Florida Department of State Divisions of Corporations, Ray the Locksmith, Inc. was dissolved as a corporation, effective date November of 2013, and is no longer active. The "Notice of Corporate Dissolution" that was filed in September of 2013, shows that the business was taken over by a Dolores Talsky.
According to reports, Altman was arrested and charged with Felony Larceny/Failure to Pay State Sales Tax.
According to the IRS, from March 2012 through October 2012 Altman failed to pay all sales tax to the state that her company had collected from its customers.
Altman pocketed more than $15,000 in collected sales tax, according to the IRS.
If Altman is convicted, she could possibly be sentenced to five years in prison, $5,000 in fines and will be required to repay the $15,000 already owed to the state. Additionally, accrued interest and penalties as well as court costs and investigative costs will be added to the amount owed.
Altman was released on $2,000 bond.
The Marion County Sheriff's Office did not indicate if Altman was arrest at her place of business or while she was home.