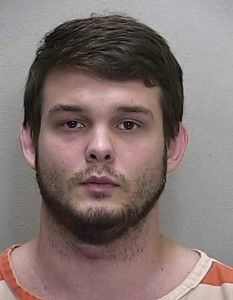 Ocala, Florida — On January 3, 2014, authorities were called to Ocala Regional Medical Center (ORMC) in reference to two-year-old Kayne Williams, a baby boy that had severe head trauma, reportedly from a fall at home.
The baby was later transported to Shands Hospital due to the head trauma being so severe. According to medical records, the baby had bruising around his right eye, nose, and both sides of his face. The baby also had a handprint bruise on his groin and lower abdomen. The handprint was of the left hand with the fingers pointing towards the head and the palm toward the feet.
An interview was conducted with the mother, Melissa Williams, who stated she had left the children in the care of her boyfriend, Bryan Blalock, 25. Melissa said they had been dating for one year, and has never had any problems with him.
Blalock told authorities he dropped Melissa off at work then returned home after paying the electric bill. Blalock said that he watched T.V. while the baby and his sister played in the bedroom. At approximately 7:30 p.m. Blalock said he put Kayne in the bathtub. Blalock said he exited the bathroom and as he returned he saw that Kayne was standing up in the tub and slipped backwards, hitting his head on the wall of the bathtub.
Blalock told authorities that Kayne cried but seemed okay. He dried him off and dressed him. Blalock said he put Kayne on the floor in a standing position after dressing him, and he fell on his face. Blalock then picked him up and realized Kayne was unconscious so he sat in a recliner with him and tried to wake him. When he couldn't wake him he went to a neighbors and called 911.
On January 4, 2014, authorities were contacted by DCF at which time they advised that Kayne had been released from surgery but was in critical condition. Authorities drove to Shands to meet with the social worker and with permission from Melissa, they went over Kayne's medical file. Dr. Marcus Renno told investigators that Kayne suffered a traumatic brain injury, specifically, a left subdural hematoma with malignant intracranial hyper-fusion, seizures and respiratory failure. The doctor noted a small bruised area on the left temple and a severely bruised right ear. The doctor said the injuries were not consistent with the slip and fall story that Blalock told detectives. Bite marks were also found on Kayne's buttocks and right thigh.
At 10:20 a.m. on January 5th, Blalock called and said he wanted to speak with detectives. Blalock told detectives he lied about what had happened. Blalock said he was spinning the child around by his feet in the air and lost his grip, causing the baby to go airborne and hit a support beam in the house. After careful investigation and DNA testing on the support beam, investigators determined he was still being deceitful.
On January 8, 2014, investigators confronted Blalock who finally admitted the horrifying truth. Blalock told detectives that after he gave Kayne a bath they were in the living room when Kayne began to jump on his back and hit him. Blalock said he became angry and grabbed Kayne off his back and began to violently shake him a half a dozen times hitting the ottoman. Blalock said the ottoman moved and he then continued to shake the child hitting him on the floor. Blalock said Kayne's head slammed into the floor several times until he passed out. He said Kayne's eyes began to roll back in his head and he had a seizure. He said he tried to wake Kayne by slapping him around and that is how he got the full size hand print on his body. He did not admit to the bite marks.
Blalock was arrested and charged with Aggravated Child Abuse.
On January 15, 2014, the Marion County Sheriff's Office received notification from UF Shands Hospital in Gainesville, that two-year-old baby boy Kayne Williams died from the head injuries inflicted by Blalock, who is not the child's father.
The State Attorney's Office said they are looking into upping the charges against Blalock.
Records show that Blalock is also a felon who was convicted of having sex with a 15-year-old in 2007.
Blalock remains behind bars at the Marion County Jail.