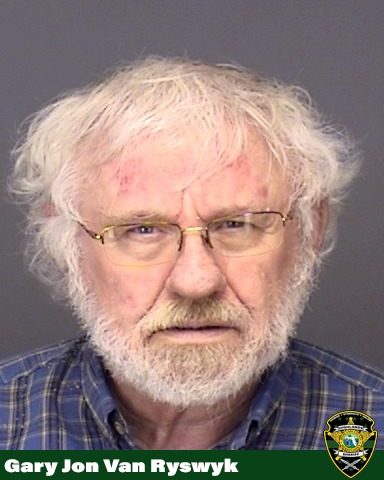 Florida –We can't make this stuff up.
On Sunday, August 18, just before midnight, a deputy responded to a home on Orday Road in Sebring after a 911 hang-up.
The Highlands County Sheriff's Office says hang-ups are common.
However, none of them make the cut when it comes to being memorable…until now.
When the deputy arrived, he was greeted by Gary Van Ryswyk, 74.
What he told the deputy was "nuts."
Van Ryswyk stated that he had just performed a castration on a man, but unfortunately, he dropped the ball.
Inside the home, the Deputy found the man on a bed bleeding heavily from his groin, which was covered by a towel.
According to reports, the room was set up like a surgical center with medical equipment, painkillers, and a camera to record the procedure.
Next to the bed was a glass jar, and inside the jar was the man's testicles.
The victim was immediately transported to a local hospital. He then had to be airlifted to a more equipped medical center.
The sheriff's office says that the man is listed in stable condition.
Van Ryswyk told deputies that he had performed a similar procedure on a man in a motel a few years ago. He said he dropped the ball on that one, too. He could not remember the other man's name. Van Ryswyk says [that] man went to the hospital, but law enforcement was never notified.
Van Ryswyk told deputies he had met this last victim on a website (http://eunuch.org/) on the dark web. The website is for people who have a fetish for castration.
Van Ryswyk told the victim that he had successfully experimented on animals and that, he had even successfully removed one of his own testicles in 2012.
According to the arrest affidavit, Van Ryswyk tried to perform the procedure on the victim a week earlier, however, when he attempted to sanitize the man's genitals, "something came up." He said the man immediately ejaculated and the procedure had to be delayed.
Van Ryswyk was arrested Monday by the Highlands County Sheriff's Office and charged with Practicing Medicine without a License Resulting in Bodily Injury, which is a second-degree felony.
His bond was set at $250,000.
Anyone who has information about Van Ryswyk is asked to call Det. Roger St. Laurent at 863-402-7250 or email detectives@highlandssheriff.com. Tips can also be left anonymously on the Highlands County Sheriff's Office app or through Heartland Crime Stoppers at 1-800-226-TIPS or www.heartlandcrimestoppers.com.
Related articles
Related articles