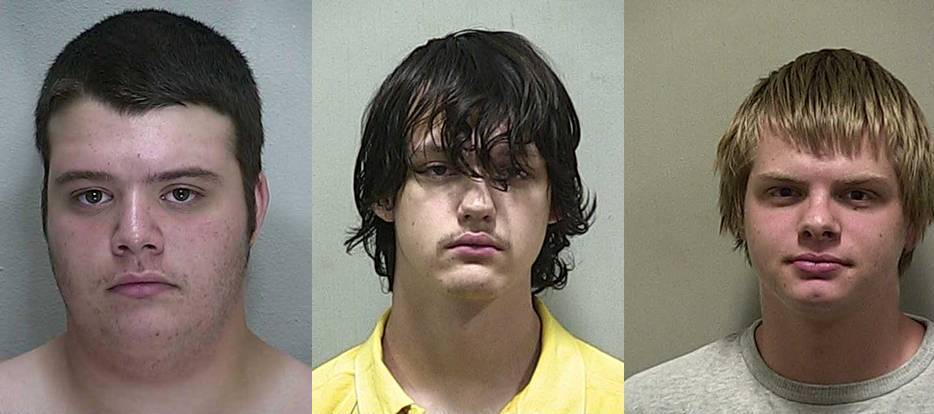 Ocala, Florida — At around 8 a.m., Saturday, October 18, 2014, Marion County Sheriff's deputies responded to the 3400 block of S.W. 165th Avenue Road, Ocala, in reference to a residential and vehicle burglary.
After further investigation, detectives arrested and charged 18-year-old Zach St. Pierre and two juveniles — 15-year-old Michael Dawson and 16-year-old Alan Page — with six counts of Burglary and Grand Theft.
Deputies made contact with the victims, who said close to $1,300 of property and cash was taken from their garage and car.
Fresh shoe impressions were at the scene, which prompted deputies to canvas the area for suspects.
St. Pierre was riding his bike heading south on 165th Avenue Road when deputies spotted him.
Deputies were able to match his shoe prints to one of the impressions taken from the victim's yard. St. Pierre said Dawson and Page were also involved, and took detectives to several locations that they burglarized together.
According to the Marion County Sheriff's Office, St. Pierre and Dawson admitted the trio are responsible for 80 to 90 burglaries in the area.
Dawson and Page took deputies to their homes, where deputies say the two had most of the stolen items taken during their burglary spree stashed in their bedrooms. Additionally, stolen items were found at St. Pierre's residence and a stolen handgun was found in Dawson's bedroom.
According to reports, all three suspects' footprints were exact matches to the ones found at Saturday morning's crime scene.
Due to the magnitude of the crime spree, more charges are expected.
If you or someone you know was burglarized in the aforementioned area, you are asked to contact the Marion county Sheriff's Office. Investigators would like to return your property if it was located.