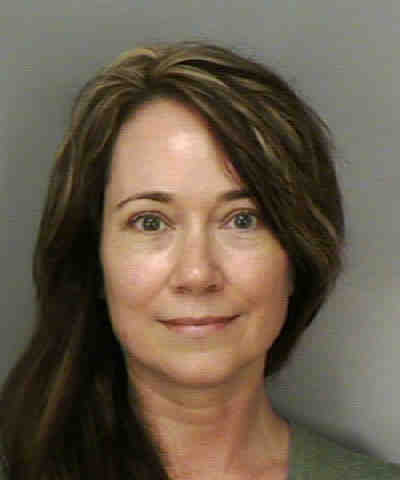 Lakeland, Florida — 49-year-old Kelly Ann Karynn, of 164 Shadow Lane, Lakeland, was arrested yesterday by Polk County Sheriff's Office detectives based upon a Polk County Warrant for corruption by threat against a public official.
Karynn is a school teacher at Bartow Middle School, teaching seventh grade English.
The charge—a direct information filing from the State Attorney's Ofifice—is based upon threats she made against Assistant State Attorney Melissa Gravitt and her family during a jail phone call between Karynn and David Bills, who is in the Polk County jail on child sexual battery charges. The victim of the sexual battery is a young girl he had access to. According to the arrest affidavit, Bills admitted to detectives that he digitally penetrated the girl.
Bills, who is married, was involved in a romantic relationship Karynn prior to his incarceration. Bills was originally arrested on November 6, 2013. He was released on bond on November 24, 2013, and was taken into custody again on December 10, 2013, for violating the conditions of his pre-trial release because he had contact with the child victim of the sexual battery while he was out on bond. He has remained in jail since December.
On July 28, 2014, Bills made contact with Karynn, via phone, from jail. During the recorded conversation, Karynn advised Bills that she had been served with a subpoena for a deposition by the State Attorney's Office to be taken on August 8, 2014, regarding Bills' upcoming criminal trial. Karynn discussed searching on the Internet for personal information regarding Assistant State Attorney Melissa Gravitt. Karynn indicated she had viewed photographs of ASA Gravitt, her husband, and children. Karynn shared information with Gravitt demonstrating she had knowledge of what ASA Gravitt and her children looked like.
During the phone call, Bills told Karynn that ASA Gravitt has a tough reputation and tries to "scare" criminal defendants. Karynn responded by stating, "If she wants to scare me, I'll start talking about children and how I know she has three children and their ages. You're a mother right?" Bills reminded Karynn their conversation may be recorded by law enforcement and the State Attorney's Office, to which she replied, "That's fine! Hi Melissa, how are you? I look forward to seeing you on the 8th. How are the kids?" Karynn also requested the last name of the detective who arrested Bills so she could look up information on him as well. Bills told her he only knew the first name and didn't know the last name, but he would find the last name and give it to her.
Yesterday, July 30, 2014, PCSO detectives served a search warrant on Karynn's home in Lakeland and confiscated a cell phone, computer, and miscellaneous documents related to the investigation. Detectives are conducting a forensic analysis of her computer and cell phone.
According to the Polk County School Board, Karynn has been placed on administrative leave with pay while an investigation takes place. She was hired on August 16, 2010, to work at Lakeland Senior High. She was transferred to Bartow Middle on July 1, 2011. She receives an annual salary of $38,949. If discipline action is recommended by the superintendent, Karynn will be entitled to due process.
Karynn is being held at the Polk County Jail on no bond.
"The Polk County Sheriff's Office and the State Attorney's Office take threats against public officials very serious. It is hard to imagine that a public school teacher would show such poor judgment to become romantically involved with a married man, and then continue her involvement after he was arrested for sexual battery on a young girl, and re-arrested for violating the conditions of his release," said Polk County Sheriff Grady Judd. "And then she makes these threatening comments on a recorded jail telephone call. Well, she's now in jail where she belongs."