Video clip courtesy of Damon A. Easley
[Last updated on July 26, 2015, at 3:50 p.m.]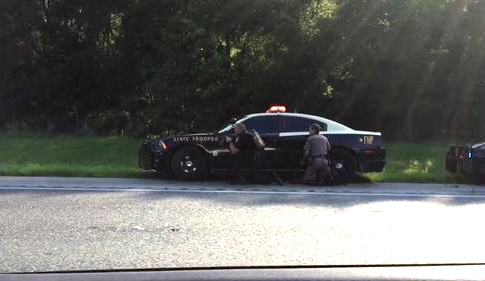 Micanopy, Florida — UPDATE  — The man who fired at a FHP trooper Saturday morning, was located and shot dead after an exchange of gunfire between law enforcement and the suspect.
The suspect apparently ran after the gunfire was exchanged.
His body was found a short time later.
Alachua County Sheriff Sadie Darnell said that they do not know if he was killed by law enforcement or took his own life.
Not one law enforcement officer was injured during the manhunt.
At 2:19 p.m., southbound lanes for I-75 traffic were re-opened. At approximately 5:51 p.m., FHP announced that two northbound lanes — the inside and center lane — of I-75 at Micanopy were opened. FHP advised that drivers should use caution in that area.
The Florida Department of Law Enforcement (FDLE) has taken over the investigation.
The deceased was later identified as Earl Jackson, 59, of Miami. Jackson's family told FDLE that he was a corrections officer in South Florida and that he was having mental issues.
Those who knew Jackson do not believe he should have been shot.  They feel that law enforcement should have questioned Jackson even though he was firing at police.
(ORIGINAL ARTICLE) A manhunt in underway after shots were fired at a Florida Highway Patrol Trooper Saturday morning as he attempted to assist a motorist.
Northbound traffic on Interstate 75 has been closed beginning at the 374 mile marker near Micanopy. Additionally, southbound traffic has been closed at mile marker 382 near Williston Road.
Motorists traveling northbound should exit in Marion County prior to entering Alachua County, and motorists traveling southbound should exit onto US 441, State Road 26, or at the intersection of Archer Road.
Drivers are urged to avoid this area until further notice.
Article continued below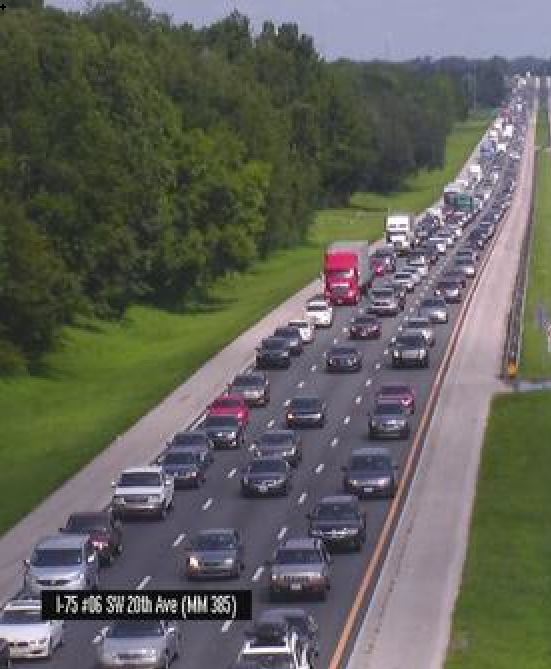 Traffic is being diverted onto US 441.
The closure is due to an armed suspect who fired several rounds from a handgun at a FHP Trooper.
The Trooper stated that he had arrived to assist a disabled vehicle when an unidentified black male began firing at him.
The black male then fled into the woods.
FHP troopers, Alachua County SWAT, ACSO deputies, and FWC have established a perimeter. The suspect is believed to be contained within the area.
I-75 northbound and southbound traffic will be closed for an undetermined amount of time.
This is a breaking story. Stay tuned for further details.