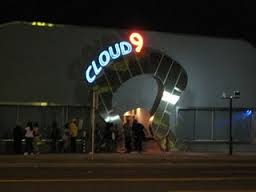 A fight broke out at an Ocala nightclub in the early hours of Monday morning leaving one man badly beaten and police in search of the attackers.
Shortly after 2 A.M. Monday at nightclub, Cloud 9, located at 1910 South Pine Avenue, multiple fights erupted outside of the establishment. According to Marion County Sheriff's Office reports, when security staff proceeded outside to break up the fights, they heard at least seven shots fired in the south end of the parking lot.
This is the second shooting at an Ocala nightclub in the past two months. In the beginning of June a shooting took place at AJ's on the Square, located at 11 East Silver Springs Boulevard, when gunman Andrew Lobban-31 shot and killed three men outside of AJ's.
The three victims, 20-year-old Jerry Bynes, Jr., 25-year-old Josue Santiago and 23-year-old Benjamin Howard all worked with the Lobban as bouncers at the Ocala Entertainment Complex.
Lobban told detectives his reason for shooting and killing the three men was because at an earlier time the men had went to a shooting range together and the three victims had pulled a prank on Lobban, rigging his gun so it would not fire. He said "they took video of the prank with a cell phone and began teasing me about it."
Lobban shot the three men at point-blank range and then ran from the scene, tossing the gun in a trash can just down the block from AJ's. He was arrested and booked into the Marion County Jail on three counts of first degree murder.
Fortunately none of the patrons at Cloud 9 were hit by the gun fire, although one man identified as Timothy Jenkins-31 of Summerfield was left on the ground badly beaten. He was taken to Ocala regional Medical Center for treatment.
A bouncer for the club told police he recalls seeing four men beating Jenkins just before they got into a late model Dodge Durango and drove away. Other bouncers stated that they did not know the names of the assailants, but did recognize them as regulars of the club.
Investigators are asking anyone with information about the case to call the Marion County Sheriff's Office at (352) 732-9111 or Crime Stoppers at (352) 368-7867.