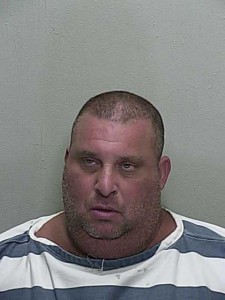 An Ocala man was arrested Saturday morning on a number of charges including DUI and leaving the scene of a crash.
According to Florida Highway Patrol reports, John R. Aiello-42 allegedly crashed his 2005 Chevy Silverado at three different locations, fleeing the scene each time. After receiving reports of all the accidents, Aiello's vehicle was located by deputies at the intersection of State Road 200 and Southwest 80th Avenue. According to reports, when deputies tried to initiate a traffic stop, Aiello refused to pull over. "Deputies had to box Mr. Aiello's vehicle in to get him to stop," the report states.
Aiello was taken to West Marion Hospital for his impairment from what officials are saying is some sort of drug. At the hospital, Florida Highway Patrol arrested Aiello, charging him with five counts of DUI with property damage, seven counts of leaving the scene of a crash with property damage, two counts of felony DUI with property damage, and one count of felony DUI.
Aiello was released from the Marion County Jail shortly after 7 p.m. Sunday on a bond of $19,000.