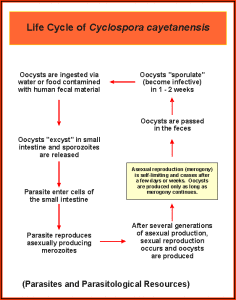 Two confirmed cases of Cyclospora infection were reported to the Centers for Disease Control back on June 28th, 2013 after residents in Iowa became ill in June with no history of international travel 14 days prior to the onset of illness. The CDC has since been working with US Food and Drug Administration (FDA) and public health officials in other states across the U.S., investigating the Cyclospora outbreak.
As of August 2, 2013 there have been 425 cases of Cyclospora infection reported to the Centers for Disease Control by 16 different states and New York City.
The reporting health departments are as follows: Louisiana, Iowa, Nebraska, Texas, Florida, Wisconsin, Illinois, New York City, Georgia, Missouri, Arkansas, Connecticut, Kansas, Minnesota, New Jersey, New York, and Ohio.
The investigations performed by Nebraska and Iowa health officials show that the Cyclospora infections in their states are the outcome of contaminated salad mix as reported to CDC. The CDC is working with federal, state, and local agencies to determine whether the findings by Nebraska and Iowa investigators are also the cause for the Cyclospora cases in other states, but as of right now it is not clear if they are part of the same outbreak. Most of the illness onset dates range from mid-June to early July with at least 24 people hospitalized in five states, according to reports.
Some people infected with the microscopic parasite that causes Cyclospora infection develop no signs or symptoms. For others, signs and symptoms — which usually begin within two to 11 days of eating contaminated food or drinking contaminated water — may include:
Watery diarrhea
Frequent and sometimes explosive bowel movements
Bouts of diarrhea alternating with bouts of constipation
Loss of appetite
Weight loss
Bloating
Flatulence
Burping
Stomach cramps
Nausea
Vomiting
Muscle aches
Low-grade fever
Fatigue
General feeling of un-wellness (malaise)
The diarrhea may end by itself within a few days, or it may become chronic, lasting for weeks. If you have HIV or another condition that compromises your immune system, the infection can last for months if not treated.
When to see a doctor
Many conditions can cause diarrhea and other gastrointestinal signs and symptoms. If you develop persistent diarrhea that lasts several days or recurs, contact your doctor so that he or she can identify the cause and recommend treatment. If you've eaten a food that's been recalled because of a Cyclospora outbreak, be sure to tell your doctor.
If you experience dehydration due to diarrhea, see your doctor. Warning signs of dehydration include:
Sunken eyes
Dry mouth and tongue
Reduced production of tears
Decreased urine output
Dehydration can be serious if left untreated.