The Samsung Galaxy S6 should be available for purchase by April 10, 2015.
But is the phone really worth pre-ordering before even testing it?
Many cell phone enthusiasts say no, while others cannot wait to get their hands on the sleek design.
The Galaxy S6 has been dubbed as the iPhone 6 copy. Why? Well, because with the Galaxy S6, much like the iPhone, it does not have an external microSD card slot and the battery is non-removable. The body design is also very similar.
Both sides of the Galaxy S6 are glass and encased in an aluminum alloy bow. Samsung even tops itself with a double curve-screen variant, the Galaxy S6 Edge.
In the past, Samsung has slammed the iPhone for not having the capability of memory expansion. In fact, Samsung built an entire television campaign around it. But now, Samsung has abandoned that though process.
And as it turns out, this change was all about money.
Apple makes much of its money from the iphone by forcing consumers to buy a more expensive phone with a greater memory capacity.
Samsung has followed that concept.
Instead of purchasing a Galaxy S6 at say $400, and then buying a $30.00 microSD card; consumers will now spend a lot more for the phone.
Samsung will offer the Galaxy S6 in 32, 64 and 128GB variants, which is rumored to come with a hefty price tag.
Samsung Galaxy S6 variants: (Prices may vary)
Samsung Galaxy S6 32 GB – $679
Samsung Galaxy S6 64 GB – $759
Samsung Galaxy S6 128 GB – $859
The Battery
In addition to the battery not being removable, it is also smaller; it's only 2550mAh, compared to the 2800mAh of the phone from last year.
So, unless Samsung has figured out a way to increase the performance of the phone without draining battery power, the phone will not stay charged as long. And without the capability of removing the battery, has Samsung figured out a way to keep the phone from "freezing?"
Samsung claims it has. Samsung representatives also claim the new Galaxy S6 is more powerful than some laptops and that it offers a more powerful gaming experience for those that play games from their phone.
Recharging Reinvented
Samsung says the Galaxy S6 meets the new standard in charging; with a Fast Charge for 10-minutes to get up to 4-hours of use. Or, charge wirelessly for 100 percent of the charge with zero percent outlet.
Other features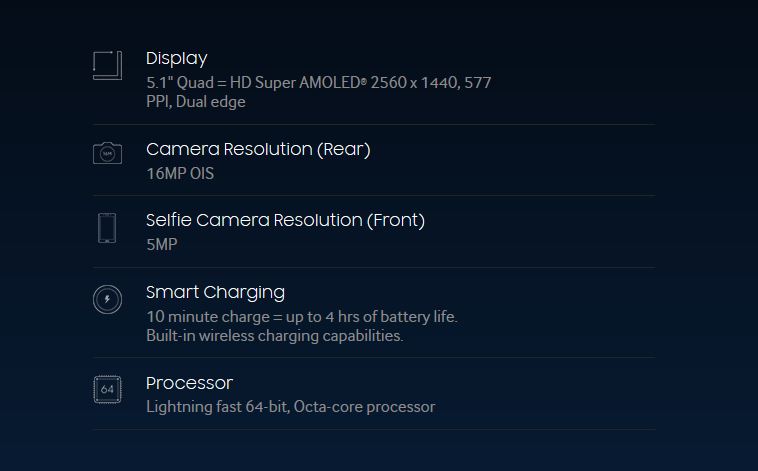 Only time will tell if the Galaxy S6 will live up to the masterpiece Samsung says it is.
Be sure and check out the video for in-depth detail on the Galaxy S6 features. You can also view some pre-order details here.
On the release date, the lines are sure to be long.