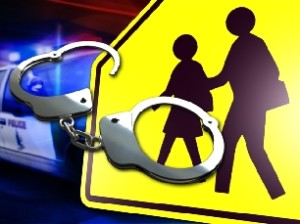 Marion Oaks, Florida — On April 15, 2014 at approximately 1 a.m. Deputies Azure and Newbanks responded to Horizon Academy in Marion Oaks in reference to a 911 hang-up.
Upon arrival, deputies blacked out their patrol vehicles and approached the property on foot.
As they were walking up to the school they observed three individuals on the roof of what appeared to be the main building, deputies Azure and Newbanks then radioed for backup, according to reports.
According to reports, the three individuals were smoking what appeared to be some sort of "Bong." The individuals could be seen passing it back-and-forth and a glow from what appeared to be a lighter was visible.
As backup was arriving and a perimeter was being established, the three individuals climbed down from the roof using an access ladder.
All three juveniles were arrested once they reached the ground.
Upon inspecting the roof of the school, Deputy Newbanks found a blue homemade "bong," a "water bong" and a Tupperware container with marijuana inside.
All three juveniles were charged with Trespassing on School Grounds, Possession of Drug Paraphernalia and Possession of Marijuana.
They were booked into the Marion County Juvenile Detention Facility.