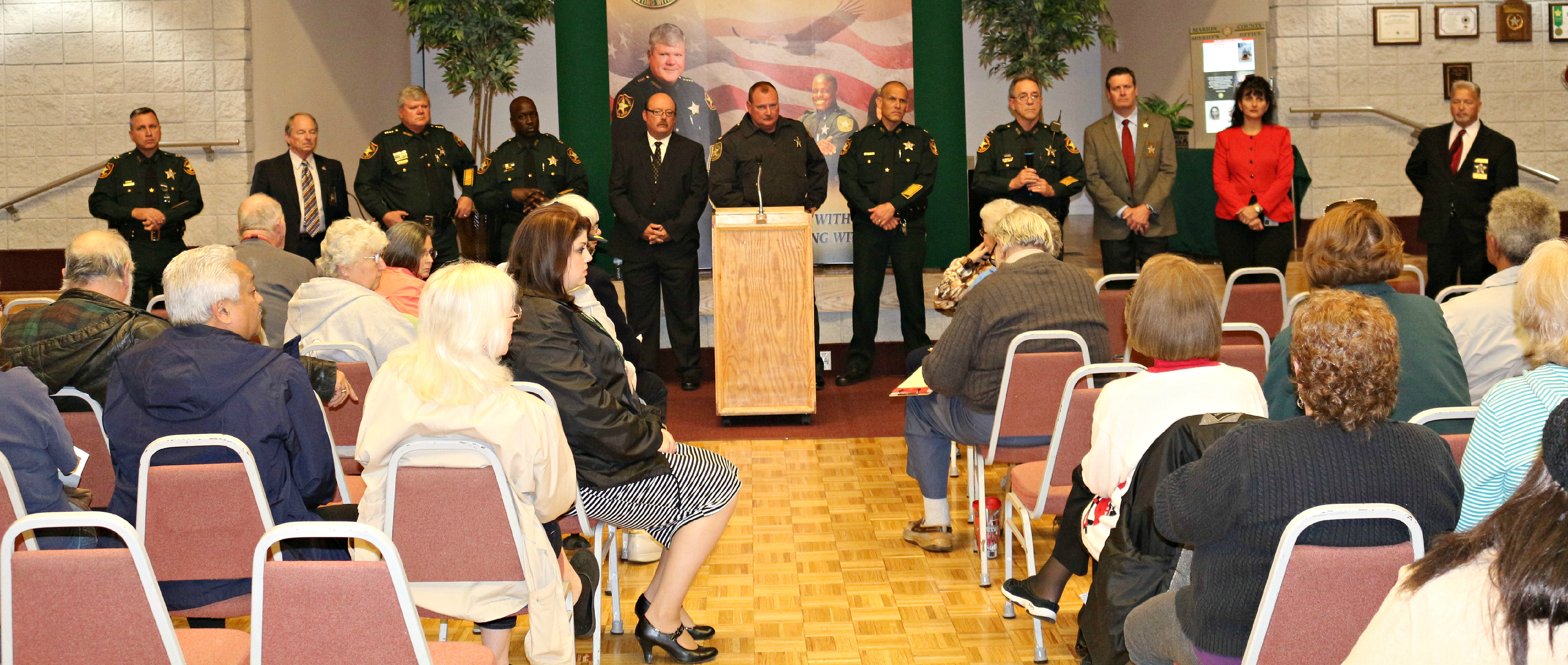 Ocala, Florida — Despite the cold weather, Marion Oaks residents came out by the dozens to attended the Town Hall meeting Thursday night at the Marion Oaks Community Center.
Marion County Sheriff Chris Blair said, "These events allow my command staff and I to hear directly from you regarding any complaints, suggestions, concerns, or other comments that you might have regarding public safety in your community and to respond to those concerns or comments."
During the meeting, it became clear that residents were concerned about public safety. Many asking when more patrol deputies would be added in the Marion Oaks area.
"The sheriff's office currently has 14 cadets in training," Sheriff Blair said. "I am making every effort possible to get the funding to hire more deputies so we can place them where we need them."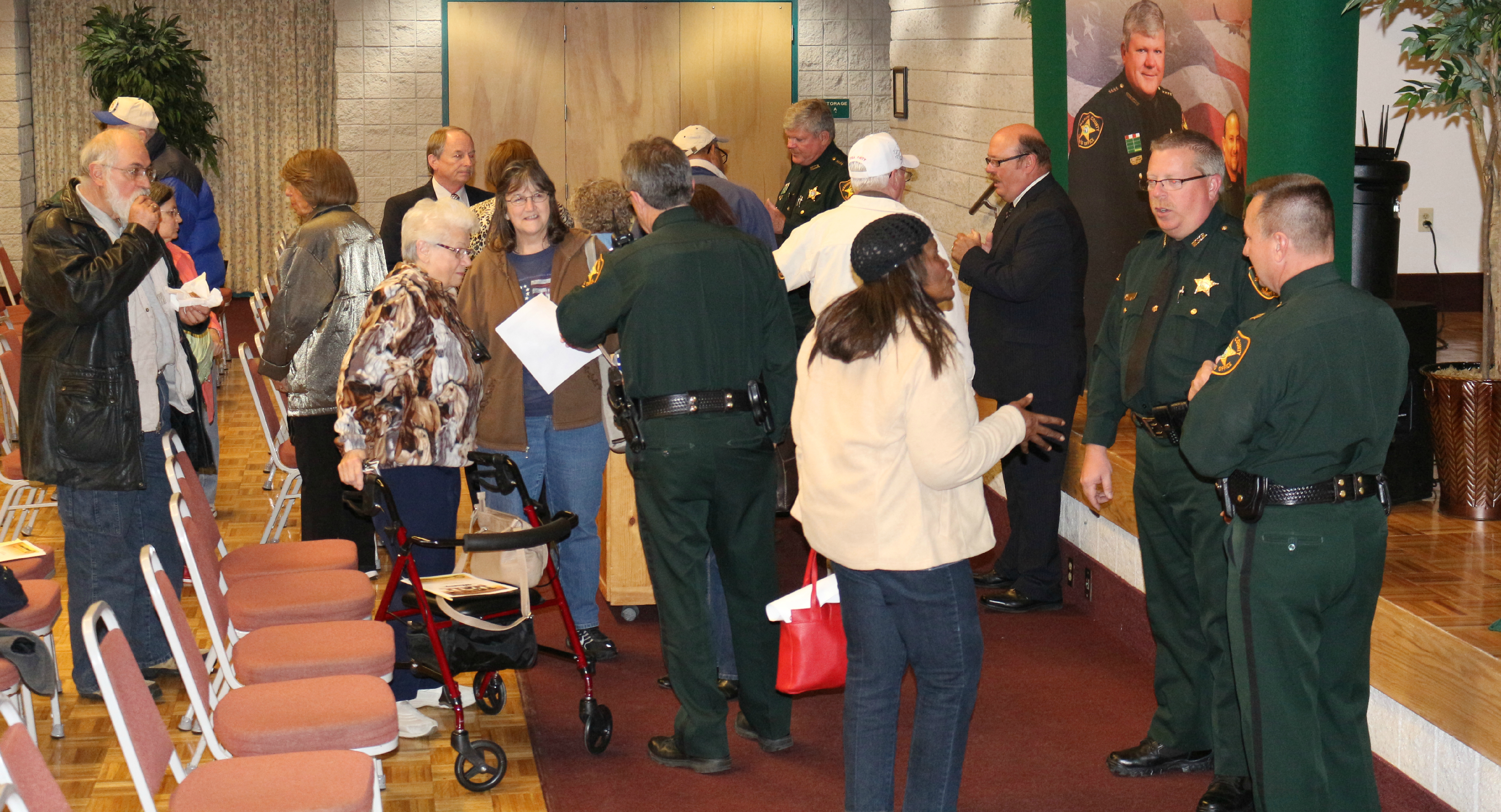 Residents told the sheriff they were concerned about individuals riding dirt bikes and four wheelers, loitering at the gas station and Winn Dixie parking lot, street racers, loud music, and speeders.
One resident said she has had issues with an individual on her street recklessly riding four wheelers, revving loud dirt bikes, and playing loud "bass music" throughout the night. Marion Oaks District Commander Lieutenant Al Ramirez said, "Well, when you leave here call us with the address." The resident replied, "I have it right here.
Lieutenant Ramirez also encouraged residents to take video if they see illegal street, four wheeler, or dirt bike racing. Lieutenant Ramirez said video helps because when people report the incident, by the time they arrive, the offender has usually disappeared.
It was a little over a week ago that a two-year-old was killed in Sumter County when Terry Killings, 28, lost control of his four wheeler, ran off the road, and stuck the child. He was illegally racing the four wheeler in his neighborhood.
However, most all residents were concerned over the amount of illegal halfway houses that have surfaced in Marion oaks over the past few years.
Currently, the sheriff's office has an open investigation into one of the homes being used as a halfway house. Details of that investigation have not yet been released.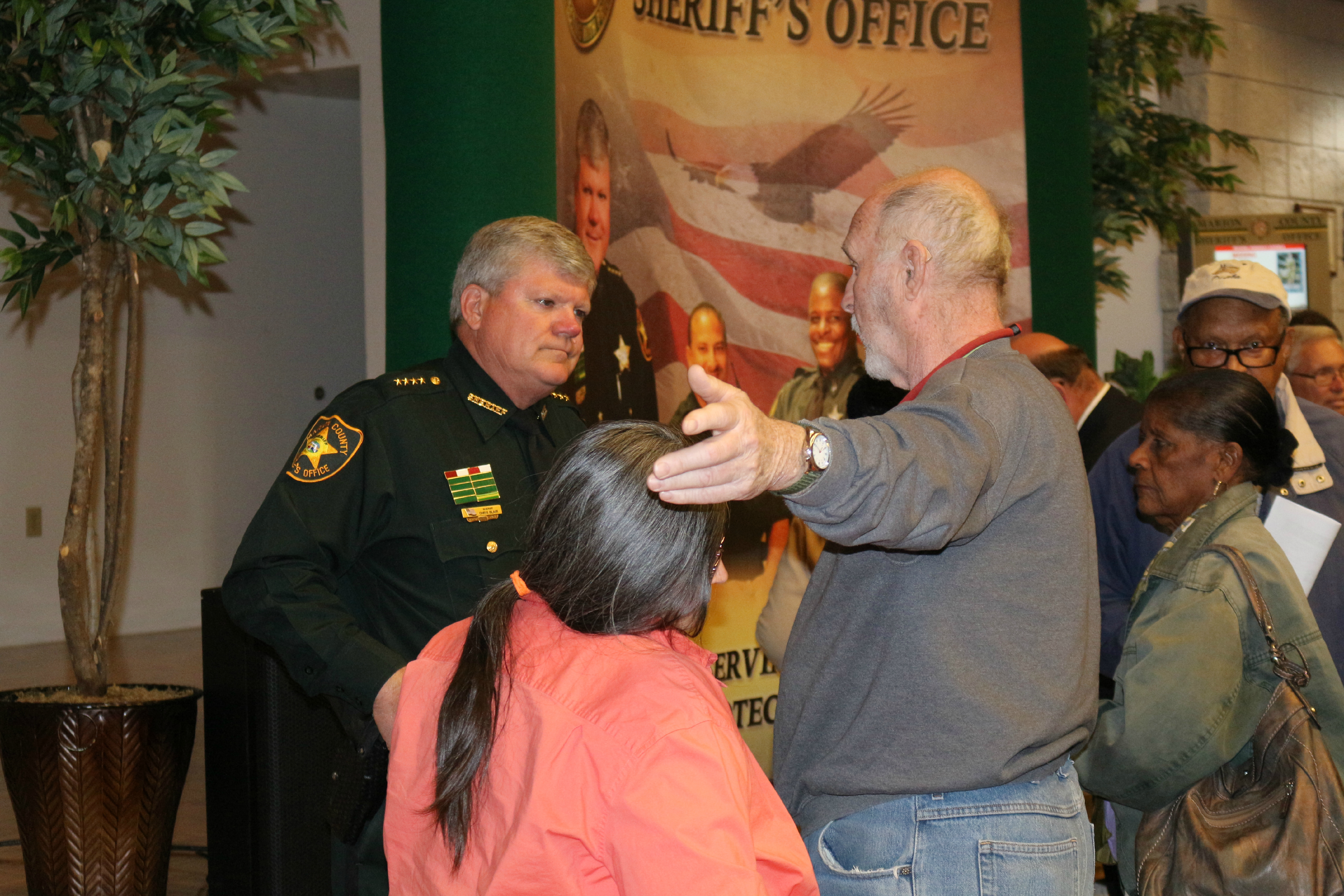 There were also speculations that Pastor Edwin Quintana would be building a "multipurpose" facility in Marion Oaks. The facility would allegedly be a halfway house and a daycare, among other things. Residents said if the rumors true, they do not want it in their community. The building would allegedly be passed off as a church.
When asked, Sheriff Blair said, "I do not have all the facts and I have not seen anything on paper, so I cannot say for certain." He added, "We have not seen any shovels hit the ground."
Residents reiterated that if the facility was built they fear the amount of drugs and crime it would bring to the community.
"I am going to tell you right now! If the sheriff's office finds out an illegal halfway house is being operated, we are going to come for them. We are here to protect the citizens of this community," Sheriff Blair said.
One individual asked how the sheriff felt about citizens carrying concealed weapons. "I am a huge supporter of the Second Amendment and I believe in the right to bear arms. I am not saying I want everyone running around with a gun, I am saying that if you want to get your concealed weapons permit, I support that. In fact, I teach a concealed weapons class," Sheriff Blair said.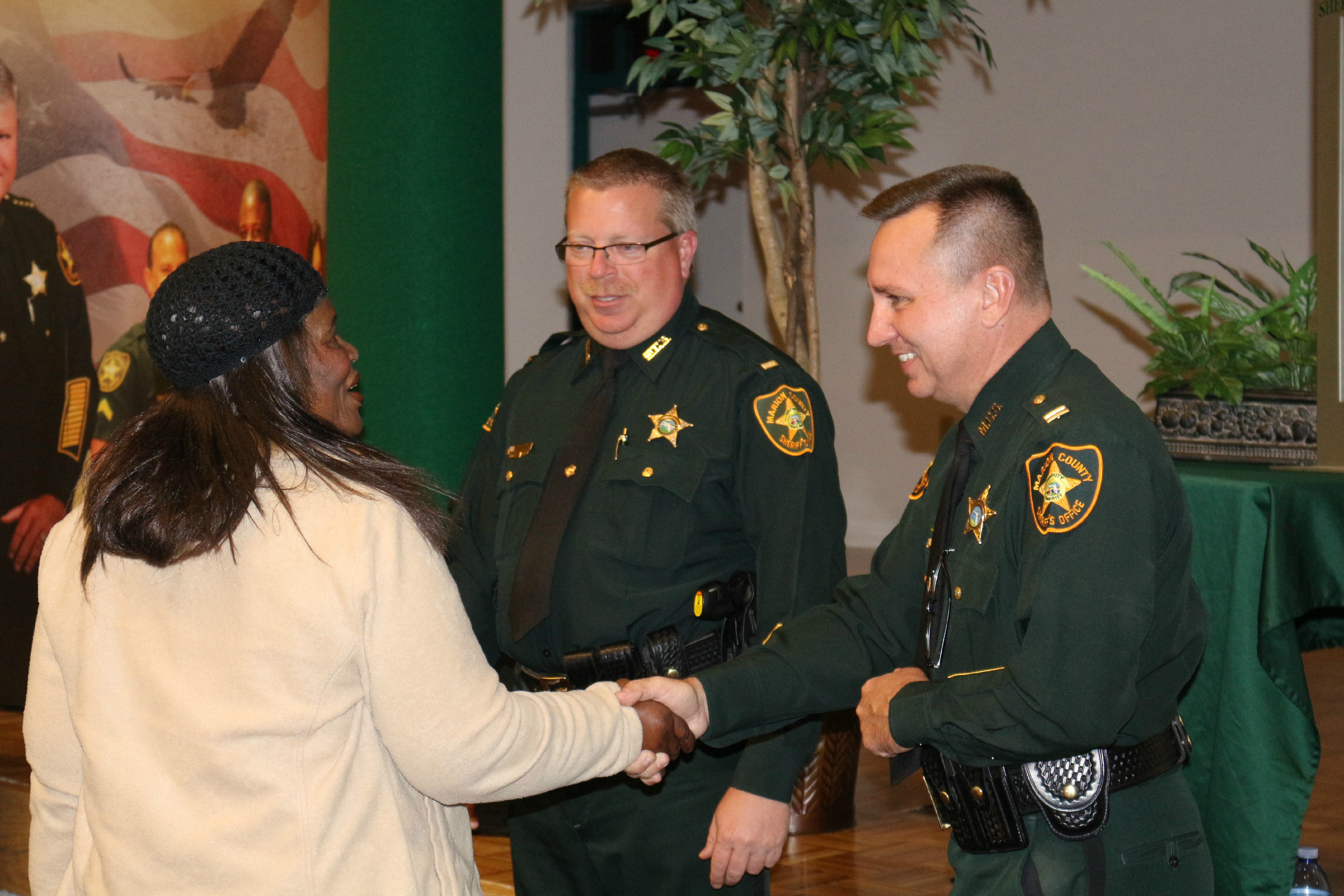 The sheriff's office handed out an eight page pamphlet containing names and contact numbers for law enforcement personnel, crime trends, information on scams, and tips on how to make the community safer.
Sheriff Blair told residents the best way they can help is "if you see something, say something." Pick up the phone and make that call he said.
At the close of the meeting, residents thanked Sheriff Blair for taking an active role in the community.
One resident stood up and said, "I want to personally thank you for being here and doing what you do. I thank you for sticking to your word."
Major J. Craig, Captain M. Rolls, Major T. Bovaird, Major D. Maines, Major T. Bibb, and Chief J. Holland also spoke about several issues at the meeting.