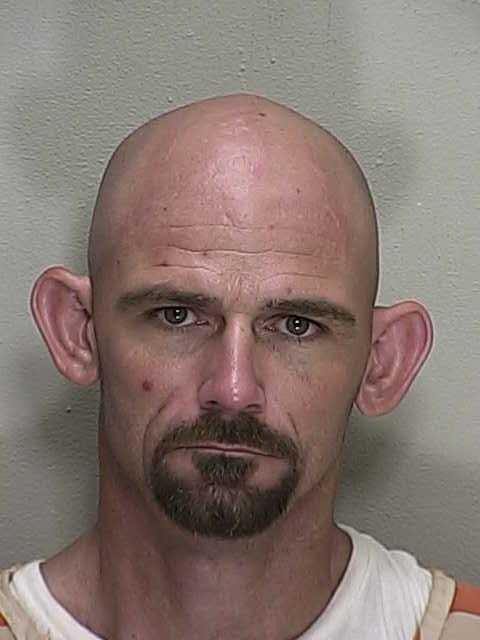 Marion County – On June 28, 2014, Deputy Frost responded to the 5000 block of SE HWY 42 in reference to a traffic stop conducted by K-9 Deputy Parker; during the traffic stop K-9 Deputy "Hero" alerted on the driver's vehicle.
The driver was identified as Michael Myers, 38, of Ocklawaha.
Deputy Parker stated that he observed a green Honda four door with a cardboard tag driving at a high rate of speed, so he began pacing the vehicle with his marked patrol car. The vehicle was traveling 15 mph over the posted speed limit.
After conducting a traffic stop, Deputy Parker utilized K-9 "Hero" and he alerted on the driver's side door.
According to reports, when Deputy Parker searched that area of the vehicle he found an unmarked bottle filled with pills on the driver's side floorboard. The pill bottle was in plain sight and in arms reach of Meyers.
The pill bottle contained the generic and non-generic form of Focalin; a prescription stimulant (speed) used to treat ADHD. Focalin is a Schedule II controlled substance.
Meyers admitted to not having a prescription, but denied having them in his possession with the intent to sell.
Meyers was booked into the Marion County Jail and released the next day on $2,000 bond.
Meyers has been arrested 16 times – three times in 2014 – and has more than 100 charges, most of which are felonies.
Some of those charges include, Battery, Aggravated Battery (multiple), Aggravated Batter With a Deadly Weapon, Possession of a Weapon During the Commission of a Felony, Firing a Weapon Into an Occupied Dwelling, Possession of a Fire Bomb (multiple), Arson, Failure to Appear for Bond Hearing, Trafficking, Possession of Ephedrine With Intent to Manufacture, Possession of Ecstasy, Fleeing to Elude Law Enforcement and Violation of Probation; just to name a few.
On July 1, 2014 – less than 48 hours after being released – Meyers was arrested on an outstanding warrant out of Sumter County for charges of Grand Theft.
He was released on July 3, 2014 on $2,000 bond.