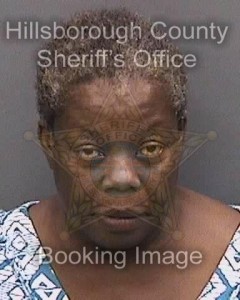 Ocala, Florida – At approximately 11:00 a.m. on November 13, 2013 an Ocala Post staff member noticed a booking photo taken by the Hillsborough County Jail matched the name and description of wanted felon, Renita Rayner. Ocala Post contacted Hillsborough County and spoke with a public information officer who seemed a little surprised when an Ocala bank robbery was mentioned. Ocala Post was then directed to the arresting agency, Tampa PD.
Rayner was pulled over by Tampa Police at approximately 1 a.m. on November 13, 2013. At that time the Marion County warrant was not known to Tampa Police. Rayner was actually arrested for Driving While License Suspended-Canceled-Revoked, and had outstanding warrants for seven counts of Obtaining Property with a Worthless Check. Rayner was booked into the Hillsborough County Jail at 3:18 a.m.
Ocala Post again contacted the Hillsborough County Sheriff's Office and confirmed the charges, at that time it was learned that Marion County had been notified of the arrest.
Marion County Sheriff's Office Detectives are on the way to Hillsborough County, Florida. Marion County Sheriff's Office Detectives plan to interview Renita Mount Rayner of St. Petersburg, Florida, about the events that occurred just before 1 p.m., on Tuesday, November 12, when Rayner allegedly walked into the Alarion Bank at 7605 S.W. State Road 200 in Ocala.
Security cameras showed Rayner wearing a brown wig and a solid blue dress. Witnesses say Rayner showed a bank teller a note and allowed the teller to see the handle of a handgun. Rayner got away with an undetermined amount of cash.
There was a Marion County felony warrant issued for the arrest of Rayner following the bank robbery. The Marion County Sheriff's Office stated that there is no timeline indicating when Rayner will return to face charges filed in Marion County.