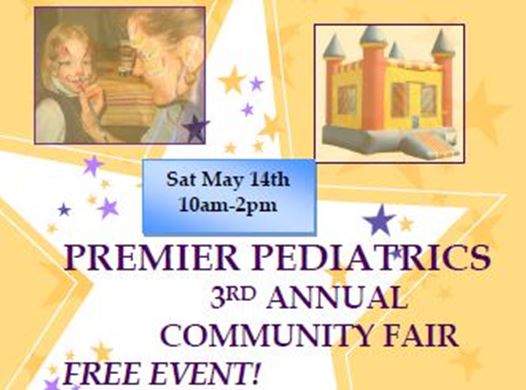 Ocala, Florida — Premier Pediatrics is hosting their 3rd Annual Community Fair on Saturday, May 14, from 10 a.m. to 2 p.m.
The event will be held at the Crossroads Church, located at 8070 Southwest 60th Avenue, Ocala.
For the past two years, Premier Pediatrics has had great success with the event, and they are hoping the turnout will be even better for 2016.
So far, they have 20 local organizations participating. Those organizations will be informing the guests about their services, as well as hosting fun activities for the children.
Those organizations include, but are not limited to, UF Health Shands, the Big Red Bus, Easy Street, Stevi B's Pizza, Healthy Smiles Dental, Children's Medical Services, the Early Learning Coalition, and the Center for the Blind.
Entertainment will include a DJ and lots of games, like soccer, water activities, and a bounce house.
Premier Pediatrics' providers and staff will all also be present at the event.
In addition to all of the fun, there will also be a chance to enter a raffle to win prizes.
This is a free event. So, head out and enjoy the fun.
Be sure to RSVP as soon as possible to reserve your child's goodie' bag.
For more information, or to RSVP, e-mail sonda@premierocala.com. You can also visit their Facebook page at Premier Pediatrics.