Ocala, Florida — As if Ocala residents would not notice, Polliwog Dental has changed its name; Polliwog is now Churchill Dentistry.
Michael Tarver is not the registered owner of Churchill Dentistry. A quick search of "Churchill Dentistry" reveals it is registered to a Wendy Churchill. However, Ocala Post realized that "Churchill Dentistry" has been registered since 2001. Further investigation revealed that the actual registered name of the former Polliwog Pediatric Dentistry is CHURCHILL PEDIATRIC DENTISTRY, LLC., registered to Michael Tarver's wife, Rebecca Tarver. Wendy Churchill is not associated with the Tarver's.
The new business was registered on October 08, 2013.
Michael Tarver, the former owner of Polliwog had his licensed suspended on September 4, 2013, the suspension came after Tarver's office was raided by the DEA on August 30, 2013.
Tarver has been accused of nearly killing a four-year-old when he overdosed the child using the combination of Versed, Demerol, and laughing gas. Tarver defends his actions by claiming the children were extremely misbehaved, therefore they needed to be sedated. Tarver admitted to sedating kids for bad behavior to Ocala Police, however, the State Attorney's Office said there wasn't enough evidence to arrest Tarver for child abuse.
Polliwog Owner Michael Tarver denies the allegations and originally denied being investigated by the DEA.
Stephanie Kenyon Marsh wrote, "Polliwog or Churchill…I'm not taking my kids! MCNA dropped polliwog the day it happened." Kristina Allen wrote, "Still won't take mine [Kids] either."
Tarver quickly became known as the "Facebook Tough Guy." Threatening to sue parents if they continued to spread the word about the abuse children had suffered at his hand.
Facebook user SandraRenee Seales St Denis told Ocala Post she had posted a message on Ocala's Word of Mouth's facebook page about how dangerous pain medications are for small children. Tarver then sent her a message threatening to sue her for slander if she "Kept This Up."
Marcia Proctor told Ocala Post that Tarver wrote to her after she expressed her concerns as well. Tarver wrote, "I am suing you Monday morning if you continue to slander me."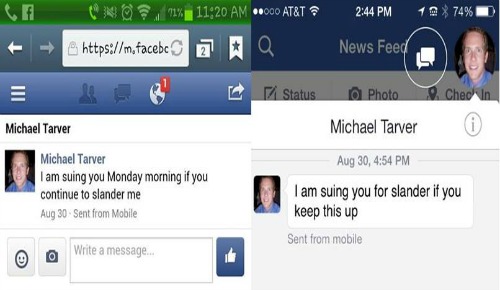 It is only slander or defamation of character if the statements made are not true. In this case, all facts are true and correct as clearly shown in court documents.
After Tarver tried to defend his practice by lashing out at parents on Ocala's Word Of Mouth Facebook page, the allegations slowly surfaced, exposing the ill practices of Tarver's Dentistry formally known as Polliwog Dental.
A hearing is being held tomorrow November 15, 2013, with the Board Of Dentistry, at which time a determination will be made in regards to Tarver having his license reinstated.
We want to hear from you. Would you as a parent take your child to the Dentistry that is now owned by Tarver's wife? Leave your comments below.