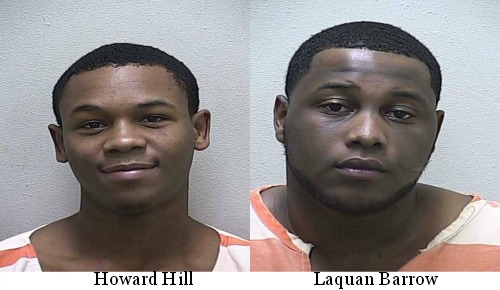 Ocala, Florida — On September 13, 2013, Ocala Post broke the story about a trio of men terrorizing residents who lived in Silver Springs Shores.
On November 13, 2013, Ocala Post released a public warning about Howard Hill, a thug and career criminal who was released from jail on November 12, 2013, after the state attorney announced that they did not have sufficient information on the case due to the lack of witnesses coming forward.
Two of the men who were involved in a series of serious and dangerous crimes in Silver Springs Shores were released from jail on more than one occasion. Today, it seems as though both the recent release of Howard Hill and last month's release of Laquan Barrow have cost someone their life during a shooting that took place at Parkside Apartments on November 14, 2013.
Howard Hill has been arrested five times. His criminal record has charges ranging from Torture and Mutilation of Animals to multiple Aggravated Assaults with a Deadly Weapon with Intent to Cause Bodily Harm. Laquan Barrow has been arrested 10 times and has multiple charges for Aggravated Assault with a Deadly Weapon and Firing into an Occupied Vehicle.
Tami Wyckoff wrote, "Parkside Apts. needs to be burned to the ground. That place is just a drug-infested nightmare. I feel bad for the good people that live there and have to deal with that mess. OPD needs to have a cop on duty that just sits there to monitor all the activity that goes on at that place."
Jennifer Shamp wrote, "Parkside and Spring Manor both , all you ever here about is gun fights , gangs, and drugs out there. And that's our low income and section 8 housing .Evidently someones not doing [their] job right to keep those kinds of people out of what should be a safe place for the elderly and parents with children who are on low incomes."
Residents can only hope these two men stay behind bars this time.
Ocala Police say on 11-14-13, three victims along with victim Samuel Washington, 28, who is now deceased, left Cloud 9 Club after midnight, located in the 1900 block of South Pine Avenue in a 2007 Saturn. They proceeded to a block party located in the 1900 block of NW 1st Street.
According to reports, all three victims pulled over just east of 19th Avenue on SW 1st Street. They told police that within minutes, a black male, later identified by victim one as Laquan Barrow, 22, opened his driver's door, punched him in the face several times, and attempted to pull him out of the vehicle. Victim one resisted by holding on to the steering wheel and pushing the suspect away, to no avail. Victim one stated that a second black male, later identified as Howard Lee Hill, 20, also punched him in the face several times and attempted to pull him out of the car. He stated that a third black male, later identified as Tydree Najee also 20, came to his vehicle with the other two suspects. Victim one stated that it was at that moment that he heard a gunshot.
Victim one stated he then drove off and fled the area while shots were fired at his vehicle. Victim one received a small cut on his lower lip and inflammation to his left side of his face due to the multiple punches he received.
Police say that victim three, who was the front passenger, described the first suspect as a dark black large heavy male. He stated to police that the suspect opened the driver's door, punched several times, and attempted to pull victim one out of the vehicle. He stated that a second suspect, approximately 5'8" or 5'9" was next to the first suspect. The second suspect also threw several punches and attempted to pull victim one out of the vehicle.
He said that an unknown black male opened the back door and yelled, "What's up Nigga." The victim then heard a gunshot. He heard the victim, Samuel Washington, who was in the back seat behind the driver, state that he had been hit. They drove to the 400 block of Northwest 9th Avenue looking for help. At that time, a dark vehicle and a lighter color vehicle drove by and shot at them several times, striking their vehicle. They hit the ground and were unable to identify the shooters.
Victim two, who was sitting next to Samuel Washington, stated the same scenario and indicated that the third suspect opened the back door and shot Samuel Washington. He said Washington stated to the shooter that he had no part of it before he was shot. Victim two stated that the shooter was slender and tall.
Washington was pronounced dead at Munroe Regional Medical Center. Washington had only lived in Ocala for a year before his life was taken by criminals, who residents say belong behind bars.
During the investigation, one of the victims told police that he had "heard on the street that Tydree was the one that shot Samuel Washington."
Although detectives are continuing the investigation into identifying the shooter who killed Washington, the two suspects, Hill and Barrow, have been arrested for charges unrelated to the case.
Detectives located Hill and Barrow and Detective Jorge Fernandez was able to charge them both.
Currently, the two are charged with Burglary of a Conveyance and Battery. Both Hill and Barrow are being held on a $500,000 bond.