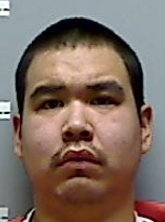 Dillingham, Alaska — Alaska state troopers had been investigating accusations that a police officer with the Togiak Village Police Department had sex with a minor in his patrol car for several days when the man confessed.
Police officer Daniel A. Gonzales, 22, was arrested Friday after he admitted to having sex with the minor and insisted the sexual encounter was consensual.
However Alaska state law does not allow for consent between a 16-year-old and a person over the age of 20 that hold a position of authority.
According to troopers, Gonzales drove the victim home during his shift on October 21, 2013. Gonzales then began texting her, asking if she would like to go for another ride.
Gonzales picked her [victim] up later that same evening in his patrol car and drove the victim to a secluded area outside of town where the two then had sex.
The victim told authorities she was frightened during the sexual encounter and that Gonzales said threatening things. After the incident Gonzales sent the victim text messages; one stating he was sorry for his actions and another asking to meet again. The victim claims she deleted all of the text messages after Gonzales told her too.
Gonzales had only worked for the police department for nine days before the incident on October 21, 2013 took place. Gonzales was fired the day he was arrested.
Gonzales was charged with felony Sexual Abuse of a Minor, Gonzales' bail was set at $10,000.