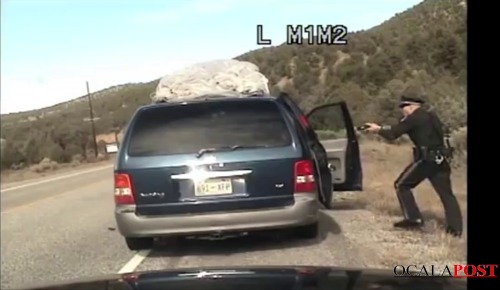 New Mexico — The New Mexico State Police Officer, who fired shots at a minivan full of children during a hectic traffic stop, has been fired.
On October 28, 2013, New Mexico State Police Officer Tony DeTavis stopped Oriana Farrell, 39, for speeding. Farrell's license was also expired. According to reports, Farrell argued with Officer DeTavis over the ticket he had issued to her for speeding, and as Officer DeTavis was returning to his vehicle, Farrell decided to take off with a minivan loaded with children.
According to Officer DeTavis, he pulled Oriana over again and then ordered her out of the minivan but she refused to comply.
At one point, Officer DeTavis stated, Oriana's son exited the van and rushed him. Police backup arrived shortly after.
According to reports, during the scuffle Oriana and her children got back into the van and proceeded to flee for a second time. As Oriana drove off, Officer Elias Montoya fired shots at the minivan full of children, some as young as six years old, according to reports. Oriana led police on a chase at speeds of 100 MPH with her children in the minivan.
Officer Montoya was placed on administrative leave with pay earlier this week following an investigation into the shooting, which took place outside the northern New Mexico tourist town of Taos. However, Lieutenant Emmanuel Gutierrez, a State Police spokesman, said he confirmed with State Police Chief Pete Kassetas that Officer Elias Montoya is no longer employed by the department. Montoya's termination was effective at 5 p.m. on December 6, 2013. Montoya has 30 days to file an appeal for his firing.
Montoya wrote in a police report, "I aimed at the left rear tire in an attempt to immobilize the vehicle."
On Tuesday, he was notified that the agency proposed to fire him, and Kassetas, in consultation with Department of Public Safety Secretary Gorden Eden, made the final decision after a disciplinary hearing Thursday.
Gutierrez issued a brief statement on the firing, but agency rules prohibit additional public comment because it's a personnel matter that can be appealed.
Montoya had worked for the New Mexico State Police for 12 years with no prior complaints.
Oriana and her son were arrested in front of a hotel after the chase came to an end. She faces charges of Child Abuse, Fleeing and Eluding, Resisting Arrest, and Possession of Drug Paraphernalia for a pair of marijuana pipes that authorities say were in the van. She has since been released on bond.
Ocala Post was unable to obtain information on Oriana's son; however, Ocala Post did obtained the full dash cam video from State Police.
Ocala Post wants to hear from you. Do you believe the officer should have been fired? Comments are open below.