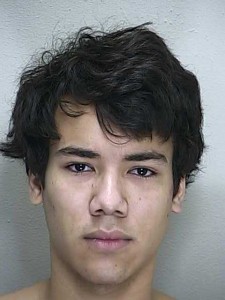 Ocklawaha, Florida — On February 3, 2013 Deputy Robert Rath responded to the 17000 block of SE 87th Street in reference to a disturbance.
Upon arrival Deputy Rath said he could hear someone screaming, "Let me the f**k up!"
Deputy Rath entered the residence then saw the step-father holding the suspect later identified as Rafael Ogrady, 20, down on the living room floor with his arms pinned behind his back. Deputy Rath noted that both of Ogrady's arms were very tense. The step-father told Deputy Rath that Ogrady was intoxicated and he had been kicking and punching the walls and cabinets.
Deputy Rath then secured Ogrady in handcuffs in an attempt to control the situation. Deputy Rath then stood the victim up. Once Ogrady and Deputy Rath were on their feet, Ogrady tried to walk out the front door. Deputy Rath had his hand on the handcuffs and when he stopped Ogrady, he turned around, looked Deputy Rath in the face then head butted him in the mouth causing a laceration to his lip.
Deputy Rath escorted Ogrady to the floor at which time he became compliant.
Ogrady was transported to the Marion County Jail and charged with Battery on a Law Enforcement Officer.
He was later released on a $1,500 bond.