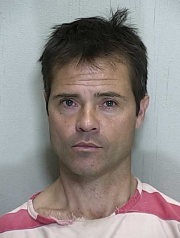 Ocala, Florida — Darren Chiacchia, the former U.S. Olympic equestrian rider, and part-time Ocala resident who was arrested on January 20, 2010, and charged with Sexually Transmitting a Disease to his partner, now has a warrant for his arrest, according to court documents.
Chiacchia, now 49, was scheduled to appear before Judge Hale Stancil for a pre-trial conference on Thursday. When he failed to appear, a warrant was issued.
According to the original arrest affidavit, the victim told investigators that he and Chiacchia had unprotected sexual intercourse several times between February and June of 2009.
The victim told investigators that while [they] were vacationing in New York, the victim stumbled upon some of Chiacchia's medical documents. The reports pointed to the fact that Chiacchia is HIV positive.
The victim told investigators that he had asked Chiacchia at the beginning of their relationship if he had been tested and that Chiacchia told him he was negative.
The victim, at a later time, was able to provide investigators with an e-mail from Chiacchia in which he admitted he knew he has been HIV positive since 2008.
In a recorded interview with Chiacchia he stated that he did not tell the victim he was HIV positive because he did not feel the victim was trustworthy.
Judge Stancil later threw out the charges, citing there was not any solid proof that the victim and Chiacchia had sexual intercourse.
In May of 2013, the Florida Fifth District of Appeals overturned Judge Stancil's decision and reinstated the charges.
While there has not been a federal law passed, 32 states have adopted state laws that protect innocent women, as well as men, from sexual partners who feel they should not be required to disclose to their partners they have an STD.
In California, if a person has sex with another person and neglects to inform them of an STD, it is a misdemeanor; for HIV/AIDS, you could actually be charged with attempted murder or eight years in prison.
New York (the first state to actually convict someone) and Florida, as with California's law, make it a misdemeanor for STDs other than HIV/AIDS, such as HPV and could bring a sentence of up to one year in jail with hefty fines.
In Georgia, doctors may actually call the partner to inform them about the other person if they test positive, as state law mandates.
Chiacchia faces up to 30 years in prison under a Florida law passed in 1997 that makes it a felony for people with H.I.V. to have sexual intercourse without informing their partners of their condition.