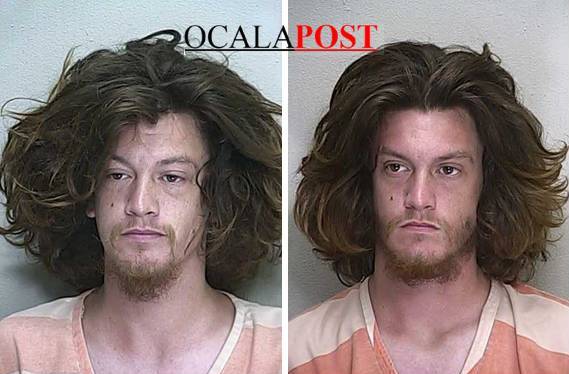 Ocala, Florida — An Ocala man told a police officer that [he] knows what hell is like just before he was arrested.
On July 11, 2014, Ocala Police Officer Ramjit, while conducting a security check made contact with a man, later identified as Jason New, 29, in the area of North Magnolia Avenue and State Road 40, as [he] stood in the median yelling.
According to reports, Officer Ramjit pulled alongside New and asked if anything was wrong. Without saying a word, New began running eastbound on foot.
After several minutes, New was located behind Parramore Music on Silver Springs Boulevard.
Officer Ramjit again made contact with New and asked why he was yelling in the middle of the street earlier. New stated that he was yelling at the people on the Square and asked Officer Ramjit not to take him to jail.
Officer Ramjit told New that he didn't have any reason to take him to jail, to which New replied, "Your red and blue lights make purple and I know what hell is like."
New was found to be in possession of drug paraphernalia and was arrested. He was released from jail on July 13, 2014.
On July 20, 2014, New was arrested on a warrant after Wal-Mart security cameras captured him returning items that were previously stolen by accomplice, Benjamin Rosemark, 21, on July 18, 2014. Rosemark would select items from within the store, steal them, and pass them on to New. New would then return the stolen items to the store in exchange for gift cards.
Since January 2014, New has been arrested six times for various offenses. He began his adult criminal history just a few months after turning 18, when he was arrested and charged with Burglary of an Occupied Conveyance.
New has been arrested more than 20 times, not including his juvenile record.
He is currently being held at the Marion County Jail.