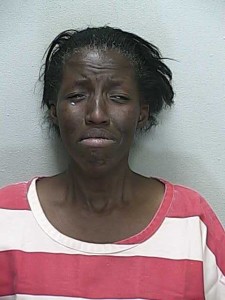 Ocala, Florida — On October 25, 2013, the Marion County Sheriff's Office received a report that a six-year-old boy was sexually battered by an adult female, later identified as Michelle Lucus, 46, of Ocala.
During a forensic interview, the six-year-old told authorities that on October 25, 2013, he was walking to the Chevron gas station located at 5895 west highway 40, Ocala, with family friend Michelle Lucus to buy items for their family.
The boy said that once they entered the store, Lucus went to the bathroom and asked him to come in too. The boy stated that he told her no, but she grabbed him by the arm and pulled him into the bathroom locking the door behind them.
The boy said that once inside of the bathroom; Lucus kissed him then pulled down his pants and "licked his private part," referring to his penis. The boy told investigators that after Lucus did [that] she asked him if he was mad at her. The boy told her yes, then pulled his pants up and they left the bathroom.
According to reports, they left the store and went to Lucus' friends house for a few minutes. The boy told investigators that on the way to the house Lucus stated "your d**k got hard" and asked why the boy was scared because she had locked the door.
The boy stated that once they left her friend's house they went back to the store, and again Lucus attempted to get the boy into the bathroom, but he said no and would not go in. The boy said Lucus got mad and walked out of the bathroom, bought chicken wings, then they left to go back home.
The boy told investigators that Lucus told him not to tell anyone.
The boy said when he left with his parents he told his dad about the incident.
Lucus was arrested and charged with Sexual Battery on a victim younger than 12 and False Imprisonment of a child under the age of 13.
Detectives would like to know what you know about Lucus' contact with children. If you have details about Lucus, please call 352-368-3544. You can phone anonymous tips to Crime Stoppers of Marion County at 368-STOP or 368-7867. Text tips to 274637 using keyword 368STOP. Tips can also be submitted at www.ocalacrimestoppers.com.