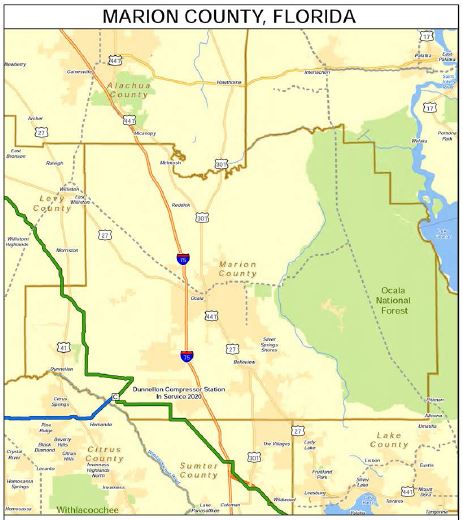 Protesters who climbed into a pipeline at Sabal Trail Wednesday said that Marion County Sheriff's deputies threatened to release dogs and tear gas if they did not exit the pipe.
MCSO officials said they were only negotiating with the protesters.
Marion officials say the pipeline will carry natural gas through Florida, Georgia, and Alabama.  Upon completion, it will be approximately 515 miles in length – 494 miles of 36-inch-diameter and 21 miles of 24-inch-diameter pipeline.
Environmentalists are concerned because the pipe will stretch across more than 600 bodies of water.
Moreover,  environmentalists are concerned about the many Springs that the pipeline could jeopardize in Florida and Marion County. (Full map of the Sabal Trail pipeline)
According to Marion County Fire Rescue Public Information Officer James Lucas, the two protesters were rescued from the pipe a little after 1 p.m. They were approximately 250 feet into the pipe. Lucas said rescue workers were worried about the oxygen levels in the pipe.
Nicholas Segal-Wright, and Karrie Kay Ford were both arrested and charged with Grand Theft over $20,000-$100,000, Trespassing on a Posted Construction Site, and Criminal Mischief. Additionally, Ford was charged with Resisting without Violence for refusing to take a device off her arm that prevented deputies from taking her into custody.
According to MCSO, both protesters deprived the construction company of the use of the pipeline, which they say justifies the Grand Theft charge.
Activists say MCSO overstepped in an attempt to "prove a point"and believe that the Grand Theft charges will be dismissed by the State Attorney's Office.
Both were treated by medics before being transported to the Marion County Jail.
We want to hear from you. What do you think about the charges?