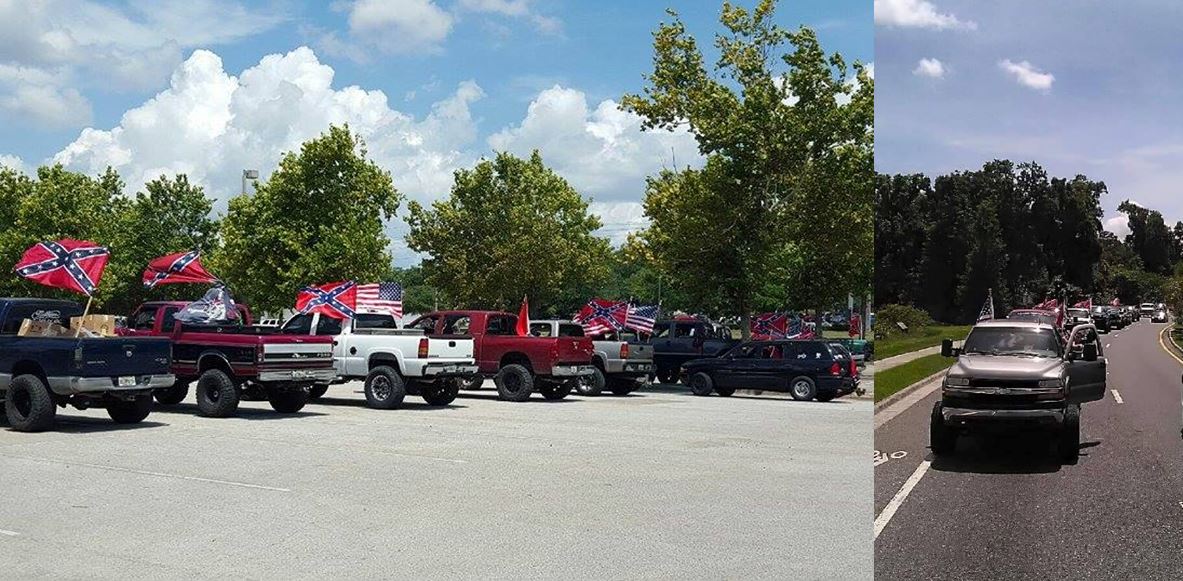 [Last updated on June 30, 2015, at 11:06 a.m.]
Ocala, Florida — The third national Confederate flag, which was on display at the Fallen Officers Memorial in front of the McPherson Governmental Complex, has been removed.
The flag was there as part of a historical display of the flags of Florida.
It was quietly removed last week.
Interim County Administrator Bill Kauffman made the decision to remove the flag.
Marion County Spokeswoman Barbra Hernandez said, "With the direct responsibility to oversee county-managed facilities such as the Fallen Officers Memorial, our interim county administrator instructed staff to properly remove it last Wednesday. It was replaced with one of the Marion County government seal."
Ocala Post asked if the county had received any calls about the flag, or if it was removed due to what the county perceived to be politically correct.
"The county has not had any requests from citizens to remove the historical flag," Hernandez said. "Marion County is respectful of the flag's historical meaning, but also aware of the perceived connotations and heightened public sentiment since the recent church tragedy in Charleston, South Carolina."
However, Marion County Democratic Party Chair Joyce Blake sent an e-mail asking the county how many of the Confederate flags were displayed throughout Marion County.
Blake, who is from Maryland, believes the flag stands for racism and hate.
Vince McDougall and David Stone, Founders of Florida Southern Pride Ride, say it is absurd to think that the flag stands for hate and racism just because of the actions of one individual.
"Not only do I find the removal of the flag uncalled for, it's wrong to just simply try to erase history because of one person's horrible actions," McDougall wrote to Ocala Post.
He said he finds it appalling that the flag has been removed from all over the nation.
Over the weekend, McDougall organized the first of many "Marion County Confederate Flag Runs." The "flag run" consisted of multiple trucks, which had the confederate flag on display. The trucks rode through Ocala, Summerfield, and Belleview.
"We are organizing a second event that will take place in two to three weeks, and we plan to link up with other counties," McDougall said. "Anyone interested in joining can follow our Facebook page for details on upcoming events."
McDougall  said, "This past weekend's flag run was done for heritage not hate… and that's the point, to let folks know it has nothing to do with race."
You can follow them on Facebook at Florida Southern Pride Ride.
We want to hear from you.
What do you think about the county removing the confederate flag?