Ocala, Florida — The Marion County Board of County Commissioners (BCC) seem to be retaliating against Sheriff Chris Blair in response to Channel 9 News and Ocala Post running a story about the Sheriff Department's deteriorating vehicles, and the BCC's lack of willingness to provide funds for new ones. The BCC is retaliating by threatening to sell the jail to Corrections Corporation of America, claiming the sale will free up funds for the purchase of new vehicles. And as the BCC has done in the past, they are giving Blair an ultimatum, almost forcing him to choose either the jail or new vehicles.
However, the corruption within the BCC is much greater than just the lack of support and attention to the much-needed funds for public safety.
Recently, the BCC voted 4-0 to support adjustments to the Sunny Oaks Estates project, and 3-1 for the Equine Commerce Support District development project, projects that will destroy approximately 300 acres of Marion County horse farmland. The project will be a combination of residential, commercial, and industrial development. A development that will certainly invite more crime, traffic, and population to an already crowded Ocala; it is the city of Orlando in the making. Again, bringing public safety to the table.
Scott Siemens, a developer on the project, was originally cleared for a project that would allow for townhouses, apartments, and a 220-room hotel to be built. Siemens is frequently represented by engineer David Tillman of the civil engineering firm, Tillman and Associates.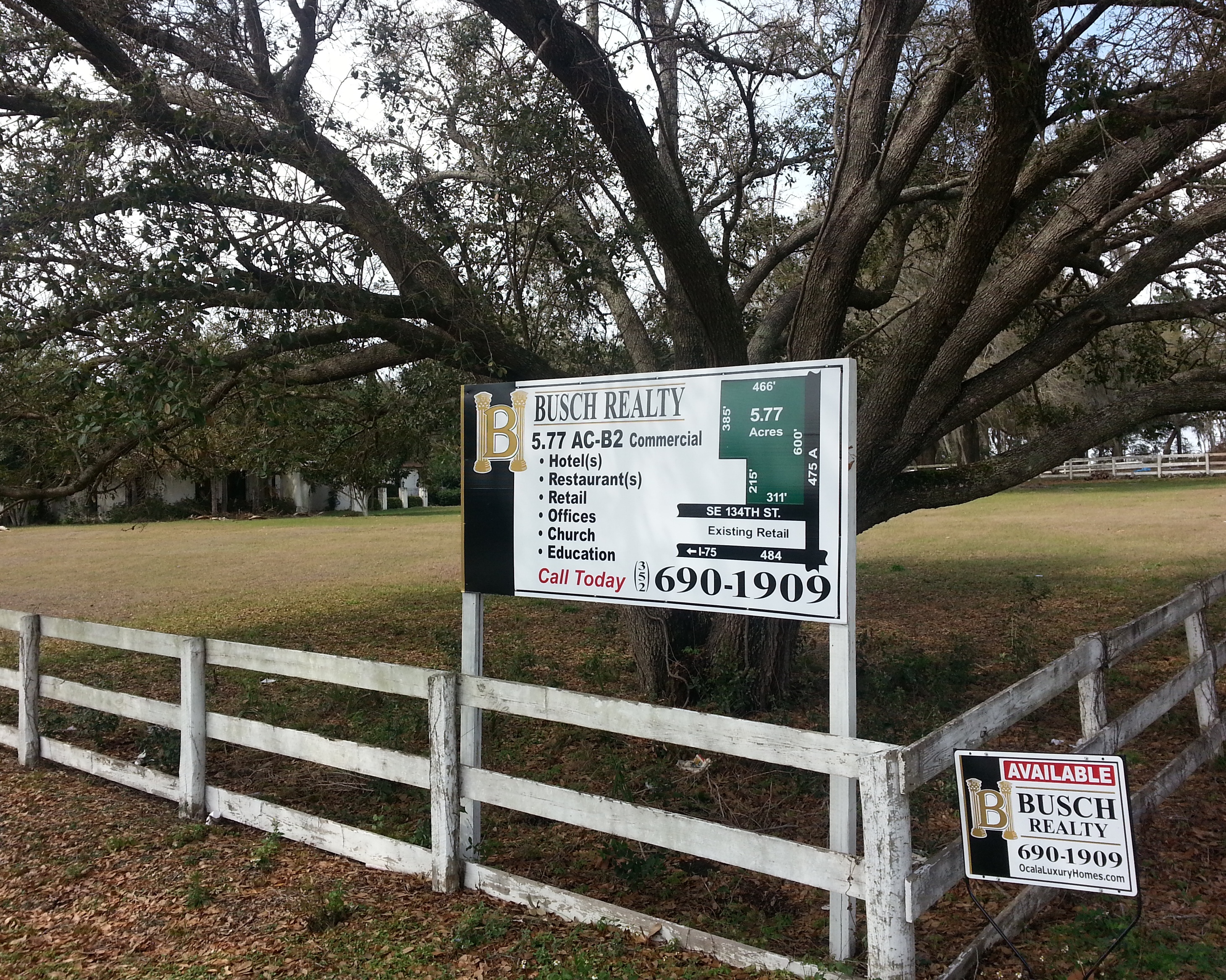 Clayton S. Ellsworth Jr. of Dunnellon wrote, "I have been poring over the campaign contributions for all of the County Commissioners. About 50% of these contributions are from contractors developers, engineers, real estate etc. These categories represent by far the single biggest contributors to the County Commissioners. No surprise at all. As I have said before, for years the County Commissioners haven't met an investor or developer they haven't liked. Wonder why?" Adding, "Money Talks."
Monetary campaign contributions to commissioners namely come from real estate investors. Also contributing to commissioners' campaigns are farmers that would benefit from land sales, underground utility companies, engineers, and developers who are directly involved in the recent development projects.
On May 7, 2013, Tillman and Associates gave a contribution to Commissioner Carl Zalak, and on December 20, 2013 to Kathy Bryant. Ciraco Undergound, a utility contractor, also gave contributions to Zalak and Bryant. Scott Siemens gave a contribution to Zalak on June 21, 2013, along with Linda Siemens who gave a contribution to Zalak on October 3, 2013. Companies Rainey Construction, Rainey, Ike (Road Contractor), Rainey Investments, LLC, and Rainey Land Company, have all given contributions to the commissioners' election campaigns.
It should also be known to Marion County residents that all seven members of the Planning Board have ties to the construction industry; many are even involved in projects that come before them for review.
Resident Lori Warren called the development deal, "Paving over Paradise in Marion County!"
Majority of Marion County residents, such as Mildred Grisson, agree that the BCC's involvement in the Equine Commerce Support District and Sunny Oaks Estates projects, is a conflict of interest.
Marion County residents are even more concerned that changes to the Sunny Oaks Estates project were slipped in without allowing input from the public. One resident said, "The meeting was a joke, they clearly had their minds made up before the meeting even started."
Experts have repeatedly argued that the Cross Florida Greenway and all of its surrounding area needs to remain protected, not to mention the impact the development will have on the county's water supply. Pleas from preservationists fell on deaf ears as the BCC moved forward with the projects.
Resident Marsha Dallas wrote, "Why does the BCC only seem to want to fix things that aren't broken? Our jail is not broken as it received perfect scores on their last inspection. Start the petitions, apparently our BCC needs "fixing" as they are obviously broken and no longer serve the Marion County citizens; they have their own agenda."
Jackalope Oif wrote, "Why are they so intrigued by growth plans and land development rather than Public Safety?"
Pat Hawk wrote, "Marion County Commissioners choose to ignore our water risk and how much more this will increase taxes on existing property owners when there are no impact fees. Who knows what will end up at this location in the Farmland Preservation Area. It was a done deal even before the meeting last night. Yeah, we need 500 homes in that area! Welcome more sprawl."
According to Florida statute, electors have the right to fight back. County commissioners are elected to work for the people, not personal agenda. According to officials, registered voters can contact Governor Rick Scott at 850-717-9337 or visit his website; information that Governor Scott's office receives will assist in determining if an investigation is in order. Information on a Municipal Recall can be found here.
A list of BCC campaign contributors can be found here.
According to records, the BCC has already submitted the project plans to the state for approval. Preservationists said," If residents do not want Ocala to become Orlando and If Marion County residents want to make a difference, now is the time."
We want to hear from you. Do you think this issue should be taken seriously and investigated?