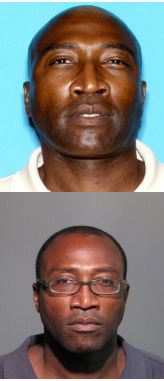 Sanford, Florida — On January 6, 2014 shortly after noon, Sanford Police were dispatched to McGee Insurance Company located at 400 West 25th Street, Sanford, Florida in reference to a Homicide.
According to eyewitnesses, Cynthia McGee Bryant's boyfriend, Richard Lawrence Barnes,46, was walking toward the location of the incident and shortly after he arrived several gunshots were fired; Barnes was seen fleeing the area. Barnes' clothing at the time of the shooting is described as a grayish/blue hoodie sweatshirt with blue work pants, and glasses.
Shortly after the shooting occurred a customer arrived at the location to pay her insurance bill and found McGee Bryant dead, she immediately called 911.
According to investigators, Barnes has been identified as the prime suspect and Probable Cause for his arrest does exist.
Barnes has multiple felony convictions and has been arrested multiple times on charges ranging from Cocaine Distribution to Obstruction of Justice.
Barnes may have ties to other cities throughout Central Florida.
If anyone knows the whereabouts of Richard Barnes you are asked to call 911. Do not take any personal action, or approach Barnes, as he is considered armed and extremely dangerous.
This investigation is ongoing and no further information can be released at this time.
[Updated January 8, 2014 at 6:26 p.m.]
Barnes was caught and arrested this evening.