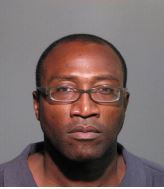 Sanford, Florida — Wanted suspected murderer Richard Barnes has been arrested for the shooting death of Cynthia McGee Bryant.
On January 6, 2014 shortly after noon, Sanford Police were dispatched to McGee Insurance Company located at 400 West 25th Street, Sanford, Florida in reference to a Homicide.
When police arrived on the scene they found McGee slumped over in her chair with a broken cell phone still in her hand.
Investigators along with the medical examiners office were able to determine that McGee had been shot four times. The fatal shot was to the chest with three other shots to her body.
Barnes was taken into custody shortly after 4 p.m. on January 8, 2014.
Witnesses were able to identify Barnes in a line up. Barnes has multiple felony convictions and has been arrested multiple times on charges ranging from Cocaine Distribution to Obstruction of Justice.
Barnes denies that he is the person that shot McGee.
Barnes is charged with Premeditated First Degree Murder.
Please follow and like us: